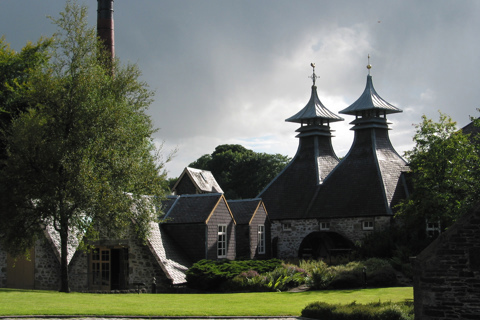 If there was an award for the most picturesque, aesthetically pleasing distillery in Scotland, then Strathisla Distillery would win hands down.  Scotland's oldest working distillery was built way back in 1786. It has two pairs of stills and uses a 54-hour fermentation. The wash stills are quite small and lantern shape in size. Its quite unremarkable early history changed in 1950 when the then run-down, bankrupt distillery was bought for £71,000 by Sam Bronfman's Seagram Group to secure the key malt for his recently-acquired Chivas Regal blend. From that moment on, Strathisla's fortune was intertwined with both Chivas Regal and the world's most luxurious blended brand, Royal Salute.
Chivas Regal is currently the world's 5th top-selling whisky brand (with an entry-level 12-year expression), whilst Royal Salute sells over 100,000 cases, with the youngest whisky in the blend at 21 years of age. This means that huge amounts of aged Strathisla stock is needed, which clearly takes a lot of careful planning. Very little of the Single Malt brand has been released, although there is now a core range 12-year-old, and a small number of single cask bottlings are also available. 
The style of Strathisla is classic Speyside, with sweet, fruity, fragrant notes and hints of toffee. It is known as a 'blender's dream' because the malt is a great building block, mixing very well with many other single malts. It also ages incredibly well in all different types of casks, as evidenced by both Chivas Regal Icon 50-year, plus the older expressions of Royal Salute. If Chivas Brothers ever decided to bottle the older casks from Strathisla Distillery, there is a good chance they could build quite a successful and revered single malt brand. However, the luxury blend market is still growing so it is doubtful this will happen anytime soon.
If any casks did become available, this would be a very strong buy. Independent Bottlers would be very interested in these casks, and as for Asian customers, there is a great story to tell about how this malt is the heart of Chivas and Royal Salute. With Strathisla there could be a possibility of a very long hold because of its track record of aging a long time. Of course, there are many variables to consider for this to be viable, but it is certainly an interesting option.   
Fact File
Name: 
Strathisla 
Founded:
1786 
Region:
Speyside 
Owners:
Pernod Ricard 
Capacity:
2.4m litres 
Stills:
4 
Fermentation:
54 hours 
Peated/Unpeated:
Unpeated 
Casks Used:
Bourbon, Sherry. 
Current Sales:
N/A 
Recent significant awards:
N/A 
Independent bottlings:
Around 600. 
Core Range:
12 + six single cask bottlings available at the distillery.
To find out more about purchasing Strathisla Whisky, contact The Masters today!
Find out about how to buy a barrel of whisky or sell a whisky cask and general whisky investment.