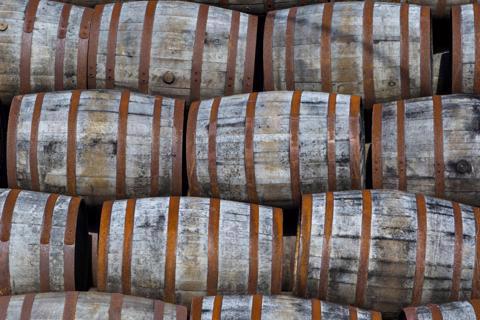 If the whisky quiz question was 'Which Single Malt Whisky was the first to be sold post-war in large quantities and in which country?', very few people would guess correctly that it was from Glen Grant Distillery in Italy in the 1960s. Glen Grant used to be the No. One selling Single Malt in the world but in more recent times has dropped out of the Top 10.
However, for investors, this isn't necessarily a detraction as the liquid is proven and the current owners (Gruppo Campari) are certainly putting the investment in. The comeback is on! A distillery that was opened by owners who grandiosely named a valley after themselves was probably always destined for great things. Opened in 1840 the early history of the distillery was quite unremarkable. However, the Grants certainly made a name for themselves by having the first electric lights installed in a distillery in 1861, having the first motor car in the Scottish highlands, and most importantly of all being the driving force that brought the railways to Speyside. John Grant who was known as 'The Major' was an engineer by trade and also a great entrepreneur. He was the first to introduce purifier pipes and designed new unique shaped stills plus, and Glen Grant was the first distillery to start exporting. With sales increasing a new distillery was opened up next door and called Glen Grant No.2 but this was soon mothballed in 1902 when whisky sales slowed. Eventually, this distillery reopened in 1965 and became Caperdonich.
However, it wasn't until the 1960s that Glen Grant's truly remarkable contribution to Scotch whisky history occurred. Armando Giovinetti was a British/Italian import/exporter based in London who after a visit to the distillery in 1961 bought 100 cases of Glen Grant 12-year-old with the intention of selling this in Italy. When you look at this in the context of the time period this would've been seen as a very strange order as Single Malt whisky was virtually impossible to find as 99.9% of it went into Blends so to try and sell it as a Malt was probably seen as a bit eccentric, to say the least. Giovinetti though started to build the brand by first selling it into hotels and then more into the mainstream and discovered that the Italian consumer was really developing a taste for it. Another much larger order was put into the distillery but this time for a five-year-old expression as the demand was for a lighter style that seemed to suit the Italian pallet better. The other advantage of selling the five-year-old is that it was much cheaper so could be priced the same as a blended whisky. It was clear that most Italian consumers would've had no idea what a Single Malt was but they loved the whisky and sales quickly skyrocketed upwards.
Within a short period of time sales had reached 250,000 cases and this was the first example of a six-figure sale of any Single Malt brand anywhere. Glen Grant stayed as the No. One, selling global Single Malt right up to the mid-1980s. The brand then slowly started to lose market share to its rivals and it wasn't until 2006 when Campari took over that the turnaround started to occur. First, a complete repackaging was put in place followed by a series of special releases including a 50-year-old. Today production is up to over three million litres per year with plans to massively increase this further. The style of whisky is medium-bodied and very classic Speyside with lots of bold rich fruit flavours.
The whisky ages very well in sherry casks but these are becoming increasingly more difficult to find. For the investor, this is an opportunity to own a very famous distillery that makes very good whisky. Campari is clearly putting the investment in and has plans to restore former glory and get the brand back to the upper echelons, so the whisky could well be undervalued. Either way, there'll always be independent bottlers who would be interested in this Malt so there is a secure exit strategy. What is worth exploring is holding onto the cask for a longer investment as the whisky does age very well.
To find out more about purchasing Glen Grant casks, contact The Masters today!
Find out about how to buy a barrel of whisky or sell a whisky cask and general whisky investment.