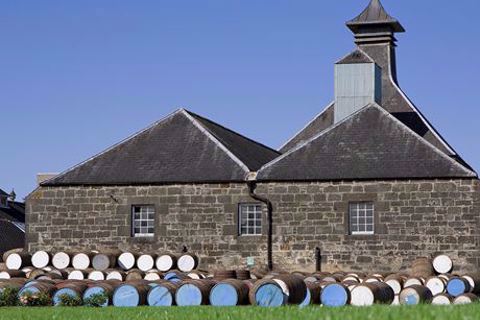 Benriach was opened in 1897 in the late Victorian era but the distillery only lasted three years until it closed in 1900. It then lay dormant next to its older brother (the Longmorn distillery) until it was re-opened 65 years later. The Seagram company then used it to make Malt for its numerous blends. It wasn't until Billy Walker and his South African business partners bought the distillery in 2004 that finally Benriach started to emerge from the shadows. What the new owners discovered is that they had uncovered a real Speyside gem. Almost immediately they started releasing a plethora of exciting expressions using different cask finishes from Madeira, Moscatel, Sauternes plus a peated cask and older vintages like the 45-year-old.
The capacity is up to 2.8 million litres per year and they have started making a few batches of heavily peated malt and a triple distilled malt and using both short and long fermentations. Benriach will generally have quite an earthy, nutty, spicy profile with a lot of sweet stoned fruit flavours. The Malt enthusiasts are starting to rave about Benriach and I think it has real long-term potential. We always think it's worth looking at who the owners are and in Benriach's case they are in very good hands and it's exciting to think about where this distillery will be in five, 10, and 20 years.
Fact File
Name: Benriach  
Founded: 1897 
Region: Speyside 
Owner: Brown Foreman 
Capacity: 2.8m litres 
Stills: 4 
Fermentation: variable 55-100 hours 
Peated/Unpeated: 90% Unpeated / 10% heavily peated at 35ppm. 
Casks Used: Bourbon, sherry & a whole range of different cask finishes. 
Current Sales: N/A 
Recent significant awards: 2021 World Whisky Awards Gold Medal – Benriach 1998 
Independent bottlings: Around 1500 
Core Range: NAS, 10, 12, 21, 25, 30 year old. 
To find out more about purchasing Benriach casks, contact The Masters today!
Find out about how to buy a barrel of whisky or sell a whisky cask and general whisky investment.