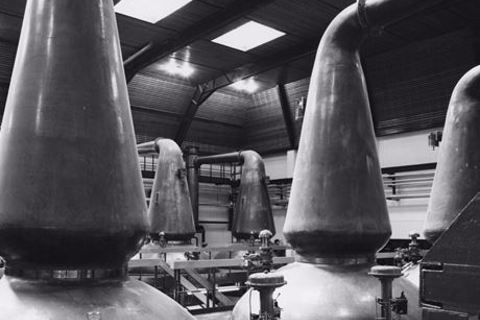 Auchroisk Distillery (pronounced ar-thrusk) opened in 1974 to take advantage of the post-war whisky boom, mainly to make Malt whisky fillings for the famous J&B Blend. Today production is still going strong and the distillery is operating 24/7, with production up to 5.8 million litres. Located in a remote part of Speyside, this Diageo distillery is renowned for having a quite nutty/spicy character. The character of the whisky comes from a very interesting production technique, which involves rapid mashing and a short fermentation, followed by a rapid boiling in the wash still. This is certainly unique and we're not aware of any other distillery which produces its spirit this way. 
The first single malt bottling was actually in the mid-80s and was interestingly the first example we have of 'finishing'. The whisky spent 10 years in a bourbon cask, before finishing off for two years in a sherry cask. However, this wasn't adequately promoted or marketed, so both the technique and the brand itself never gained any traction. Since then official bottlings have been few and far between, with just a 25-year, 28-year and 30-year limited-editions released. 
Auchroisk Distillery, despite being fairly unknown, is clearly of great value to its owners Diageo, as they have it in full-time production and very little of it is released as official bottlings. Essentially this is a very unique Malt whisky in terms of its character, so there will be interest from the Independent Bottling market, of which we counted close to 600 on Whiskybase over the years.
A distillery that has cult status amongst the enthusiasts is never a bad thing. Look to hold onto Auchroisk Distillery casks until they are 10 to 21 years old, would be our advice.   
Fact File
Name:
Auchroisk 
Founded:
1974 
Region:
Speyside 
Owners:
Diageo 
Capacity: 5.9m litres 
Stills:
8 
Fermentation:
53 hours 
Peated/Unpeated:
Unpeated 
Casks Used:
Mainly bourbon 
Current Sales:
Minimal 
Recent significant awards:
None entered 
Independent bottlings:
Around 575 
Core Range:
None To find out more about purchasing Auchroisk casks, contact The Masters today!
Find out about how to buy a barrel of whisky or sell a whisky cask and general whisky investment.