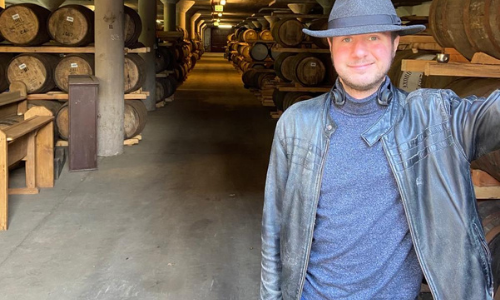 I'm not sure Hemingway ever actually said 'Write Drunk, Edit Sober', but I must confess most of my (strictly amateur) fiction writing has been its strongest when inspired by a strong dram. I think it was inevitable that when I organised my first 'Writing Week' in 2017 (now an annual event) that the words would flow as the whisky flowed – and that I'd save rereading anything back until armed with a coffee the next morning.
My first trip grew out of a desire to see if I could write a book, rather than just loudly proclaiming after a few whiskies that I wanted to write a book. I wanted to find somewhere completely separate to my daily life in South-East England, but still somewhere I could speak the language, with a nice writing desk with a view of some water, and ideally a host sympathetic to me enjoying a cigar or two whilst typing away. Needless to say, there weren't many places that offered it all!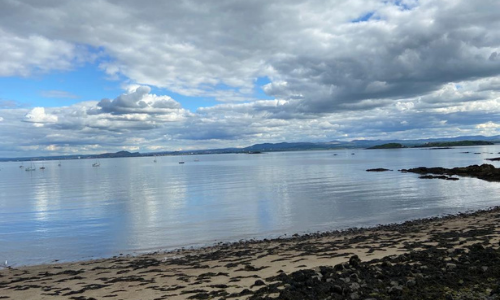 Sometimes, though, the stories of our lives have a funny way of writing themselves, and so it was that I found the B&B in Aberdour, Fife, that would become my annual base, hosted by Celia who quickly became a lifelong friend. I started each day with a walk around the water, had a large breakfast, and usually lit my first cigar around 9:30 am. I'd write solidly throughout, working the same hours on my passion project that I worked on my career back in London, pausing occasionally to appreciate the crashing of the waves or to see if the weather was allowing me to see Edinburgh across the water (30 minutes by train) or restricting my vision to the end of the garden – usually both several times each day.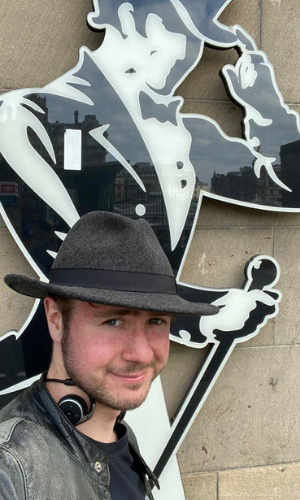 I'd start pouring Whisky straight after lunch and usually wrote most in the afternoons – a dram at 2 pm, another at 6 pm, and a double after dinner, was usually my rule. My first year I bought a bottle of Glen Scotia Double Wood and used it to complete the first draft of my first novella, in 2018 a bottle of Johnnie Walker 18 helped me write a small collection of short stories, and in 2019 I wrote my second novella with a bottle of Dalmore Cigar Malt. I switched the Whisky up a bit in 2020 (writing the first four episodes of my first Sitcom) and 2021 (back to short stories) and took an array of miniatures and sample bottles filled with different drams for each day.
Perhaps reflective of my good fortune to move into the Whisky Industry in my Professional Life this last trip certainly featured the most impressive liquid.  From my case of miniatures the highlight was undoubtedly a Sherried Springbank from 1992 (my birth year!) – a very kind gift from
Sir Colin Hampden-White
, which I paired with a special cigar gifted to me by Simon. It seemed fitting as Springbank is his favourite distillery!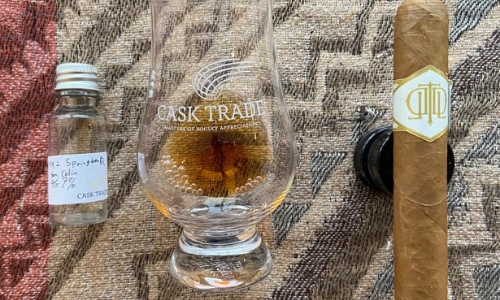 Usually on these trips I scarcely look up from my writing desk, but with Celia selling up and retiring I knew this would be my last time in Aberdour and added on a couple of days to try to explore a little more of Scotland. On the Friday I ventured into Edinburgh and very quickly broke my 'no new Whisky bottles until after moving house' rule (I blame Cadenheads…) so felt it was safer to dive into Sandy Bells and start buying by the Dram again. I was blown away by a Single Cask Aberfeldy but the real star of the show was the Port Charlotte Valinch which I can still taste now and frankly haven't shut up about since!
On the Saturday I visited my friend Colin Campbell, who took me to my first Whisky show some years ago and who ultimately is responsible for turning my interest in Whisky into a fully-fledged lifelong passion. Colin and I haven't seen each other since he moved back to Scotland last year so there was much catching up to do, and naturally a visit to Deanston Distillery was essential! We had an incredible time in the Warehouse 4 Tasting Experience, and my favourite Whisky was actually the first one we tried – a 2013 Refill Bourbon Barrel. It was lovely to find this often overlooked Cask Type being allowed to sing and really let the character of the distillery shine through.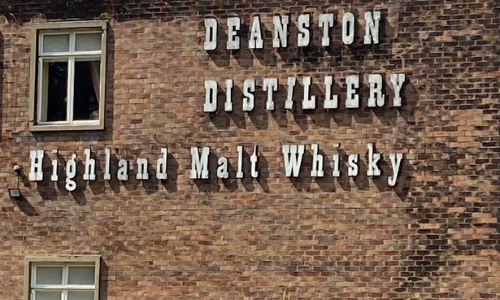 Once again I broke my 'no more bottles' rule in the gift shop (oops), although I suppose now everybody knows my enthusiasm for the
Deanston Barrels on our stocklist
is coming from first-hand experience! Colin and I later made a list of all the distilleries we want to visit in Scotland (basically, a list of all the distilleries in Scotland and a few we're going to try to save by inventing time-travel) and once I was back to Aberdour and savouring my last view of the water I thought not only of all the time I've enjoyed North of the Boarder, but of how many visits I no doubt still have to come. I don't think I can ever really say goodbye to Aberdour or to Scotland, rather I repeat myself (as I'm prone to doing) 'That's me away the noo…'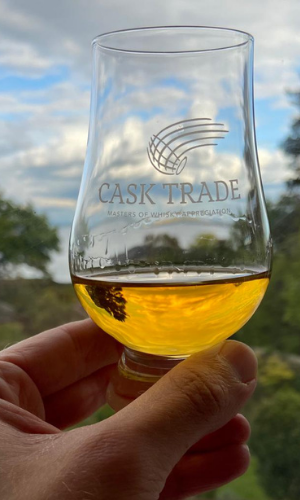 To find out more about investing in Whisky Casks and to speak to the Masters themselves, contact the Team today!