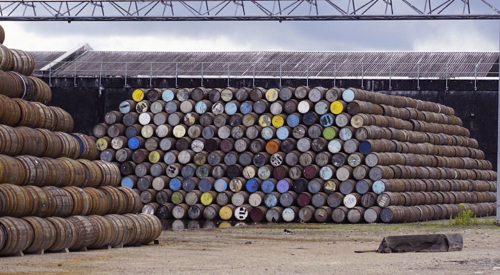 "This month's auction features more than 20 casks from distilleries including Springbank, Bruichladdich and Glenrothes."
A live online auction dedicated solely to whisky casks will be held later this month, featuring more than 20 casks from distilleries including Springbank, Bruichladdich and Glenrothes.
Potential bidders in the sale – hosted by whisky cask marketplace Cask Trade at auctionyourcask.com from 22 January until 2 February – must register their interest on the website by the first day of the auction, while those wishing to register casks must do so on the website by this Friday, 10 January.
"About 24 casks of mature whisky will be featured in the auction, headlined by a Springbank ex-Sherry hogshead – filled in 1995 and with a pre-sale estimate of £40,000-50,000 – and a Bruichladdich 2007 first-fill ex-Château Margaux barrique, set to fetch £29,000-33,000.
Also up for grabs will be a Glenrothes 2009 ex-Sherry hogshead, estimated at £9,000-11,000, and an April 2015 Glen Ord barrel (estimate: £2,000-3,000)."
The sale comes as the market for rare and collectable whisky hits new heights, with a Sotheby's auction in London last October of 'The Ultimate Whisky Collection' fetching a total of £7.6m, including a record-breaking bottle of Macallan 1926 60-year-old single malt, which sold for £1.5m.
Meanwhile, a 30-year-old ex-Sherry hogshead of Macallan single malt became the most expensive whisky cask sold at auction when it fetched HK$4.5m (US$579m) during a Bonhams sale in Hong Kong in November last year.
'It's a really exciting time for whisky sales as the recent Sotheby's auction proved,' said Simon Aron, owner of Cask Trade and a whisky collector for more than 20 years. He founded Cask Trade in 2018 as a 'real and trustworthy' whisky cask marketplace for whisky collectors, investors and bottlers.
'I was in the room and the excitement was palpable, and marked an historic moment for the spirits market,' he said.
Prior to the auctionyourcask.com sale, two tastings of cask-strength samples will be held for those who have registered their interest, while a limited number of samples will be available online after the tastings for those unable to attend.
All of the casks involved will have a regauge (a fresh assessment of volume and alcoholic strength) before the auction, with a 70cl sample drawn so that bidders can, wherever possible, try the whisky prior to purchase.
Cask Trade has also pledged to validate all sellers involved in the auction, confirming proof of ownership and the history of the casks on sale. A buyer's fee of 15% plus VAT is applicable.
Interested in investing in whisky casks? For more news from the Masters, sign up to our newsletter by ticking the box at the bottom of the registration form.  Follow us on Instagram, TikTok, Facebook, Twitter, LinkedIn and YouTube.
The original version of this article was published incluboenologique.com