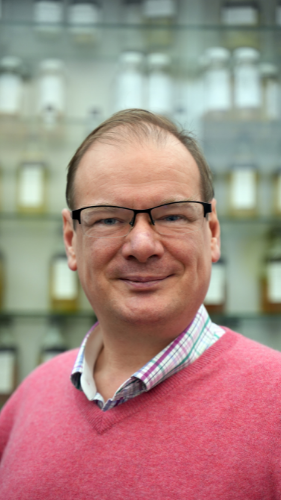 From self-confessed whisky geek since his university days to becoming a wine connoisseur and making a hit Amazon Prime TV Show about drinks along the way, Cask Trade's Board Director Colin Hampden-White shares with us some of his many interesting career highlights.
Born at Chelsea & Westminster Hospital into a military family in 1971, Colin spent much of his childhood travelling the world living in many places including Germany, Kenya and Sudan. Despite a burning desire to become a professional photographer, Colin studied surveying and geography at Edinburgh University before becoming a quantity surveyor working in Glasgow.
His passion for photography never abated so he moved to Edinburgh and persuaded The Scotsman team to look at his portfolio of work. Unexpectedly, they gave him a job where he spent a few months working on the Edinburgh Evening News and two years at The Scotsman. Self-taught, but with a lot of help from the photographers at The Scotsman, Colin shot a wide variety of different things for the newspaper, but he had a penchant for portraits.
A move to London saw Colin freelancing for various national newspapers before landing a job with the Financial Times in 2004, shooting business portraits for a year before returning to freelance life.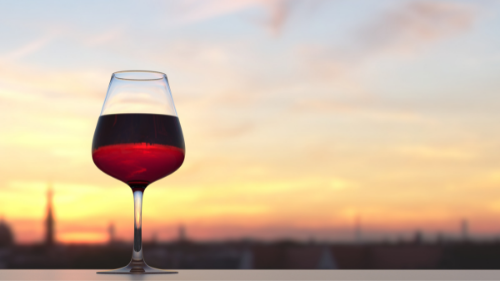 The Greatest Whisky and Winemakers
In 2007 Colin secured representation at the Rebecca Hossack Art Gallery, and held solo exhibitions in London for the Greatest Winemakers and in New York named the Greatest Whisky Makers. His work was also exhibited at the National Portrait Gallery in 2011. With unprecedented access to the world's top wineries and distilleries, Colin was then asked if he would start writing about the producers crafting the products.
Colin says: "A friend of mine worked for Farr Vintners and I was invited to photograph the Bordeaux En Primeur campaign with them. I went to Bordeaux and photographed winemakers and did the same in Champagne and Burgundy. Very quickly I got a very expensive palate!"
Dividing his time between photography for the likes of Vogue Italia and writing for Lux, owned by Darius Sanai the Editor in Chief of Conde Nast, Colin improved his wine and whisky knowledge by attending as many trade tastings as possible.
Colin says: "I spent two years improving my wine knowledge and joined the Circle of Wine Writers which gave me access to the tastings, and I learned off of as many people as I could. Initially, I went through the typical journey of old-world wine – Bordeaux followed by Burgundy - and then I started to discover new-world including California, Argentina, and wines from Australia in the Barossa and McLaren Vale."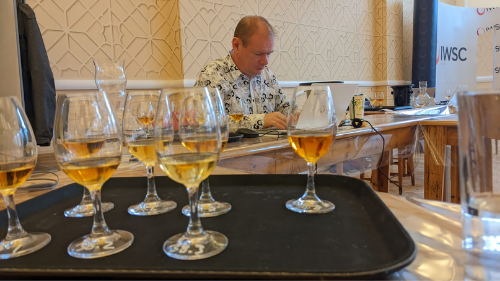 Whisky in Words
Colin became friends with Krzysztof Maruszewski the owner of a wine investment company called Stilnovisti, who wanted to start a whisky publication. Whisky was started in Poland and Colin became the editor. In the same year, he also had the idea for Whisky Quarterly and was the founding editor when it launched in 2015. Whisky Quarterly was a luxury magazine, initially printing only 1,000 copies going to super-high net worth individuals.
By now, Colin was already a judge for the International Wine & Spirits Challenge. He then became the Chairman of the Circle of Wine Writers, where he helped to encourage a younger, more diversified and international membership. In 2016 he was honoured to be invited to become a Keeper of the Quaich in recognition of his service to the whisky industry. In 2021 became a member of the Worshipful Company of Distillers.
The Three Drinkers
Like all good ideas, the brainchild for The Three Drinkers television series was born over a dram or three at Milroy's with co-hosts Helena Nicklin and Aidy Smith, who had a desire for digital communication.
"Once I had met Aidy and I learned he was doing a video on social channels and I knew Helena wanted to do some video work, I thought those two should work together," explains Colin who says the trio knew someone at Amazon who really liked the concept for the show.
Colin adds: "We sat down and thought about how we were going to make it. I had an idea to go to all the people I had met in Scotch over the last six years, pitch it to them and raise the money. The executive producer is a very good friend of mine and he managed to pull in the talent behind the cameras to make it happen."
From concept to launch was just nine months and The Three Drinkers is now in its second season on Amazon Prime.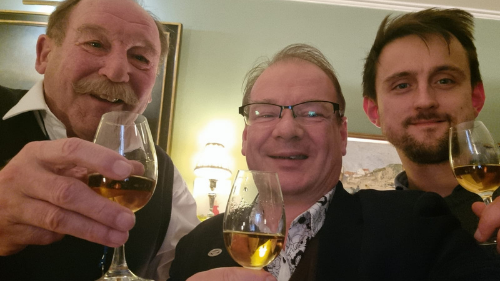 Joining Cask Trade
Colin joined Cask Trade soon after the company launched in 2019. As a Board Director, Colin initially helped with a degree of quality control and, as the company expanded and needed greater supply, he started to help source casks. Now, Colin has the enviable task of tasting samples of whisky, rum and Armagnac and sharing his notes with the Cask Trade team and customers.
Outside his role with Cask Trade, Colin divides his time between London and Sussex with his wife Caroline and is a judge for many prestigious industry organisations including the World Whisky Awards and Scottish Whisky Awards. He is also a consultant to other wine and whisky companies providing them with content, video, and writing.
What bottles can be found in your recycling bin?
Alongside the many bottles of sparkling water essential for hydration, Colin has recently enjoyed a range of wines and whiskies from around the world. With around 900 bottles in his temperature and humidity-controlled home storage room, and more bottles stored in bond, Colin has a wide variety to choose from.
Fox Creek Reserve Cabernet Sauvignon 2000, McLaren Vale, Australia
1991 Single Malt Islay from The Wine Society
Kentucky Owl for St Patricks Day Bottling
Viking Wines 2002 from Barossa, Australia
Volnay Premier Cru, Domaine Perrin 2009, Burgundy, France
Chateau Grand-Puy-Lacoste 1999, Bordeaux, France
Bodegas Caro 2000 (1st vintage made) Domaines Barons de Rothschild, Mendoza Argentinian
Donnhoff Riesling Spatlese 2000, Germany
"As much as I love whisky it is also my work. If I don't want to analyse and intellectualise about whisky then I will always reach for a Johnny Walker Black Label served as is, or maybe with a little bit of water," says Colin who has also recently been enjoying tequila and grapefruit tonic, a twist on a Paloma cocktail.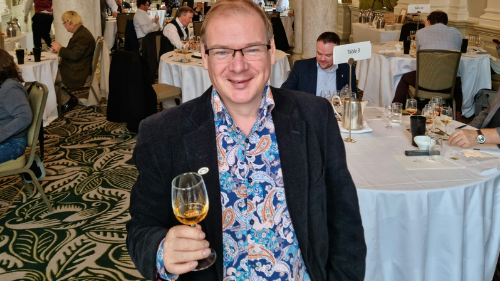 What do you like most about Cask Trade, and why should people invest in Whisky Casks? "My two favorite things about Cask Trade are the people and the transparency. What you see is what you get with us, there's no smoke and mirrors. This is important when it comes to whisky cask purchasing.Whisky casks are able to take you on an emotional journey as well as a profitable one." says Colin.
To find out more about purchasing Scotch Whisky casks, contact the Masters today. Keep up to date by following us on socials: Instagram, Twitter, Facebook, LinkedIn, YouTube.