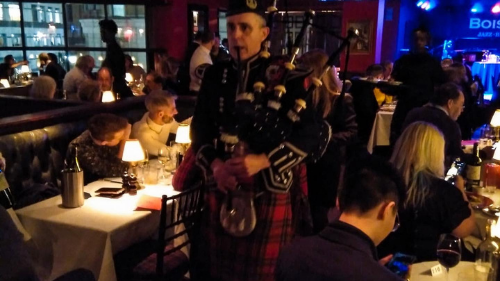 This Tuesday the 25th of January the Cask Trade team led by our intrepid Scottish contingent celebrated the 263rd birthday of the National Bard in style. Heading over to the excellent new (ish) Milroy's of Spitalfields in East London was Hugh (Edinburgh) and Jack (Dunblane) where they indulged in an alternative Burns feast consisting of haggis rarebit and beef shin stovies, washed down with four of the Bruichladdich range (Octomore 9.1, Port Charlotte 10, Classic Laddie, Black Art). Milroy's Spitalfield has over 1000 bottles of whisky to choose from plus a private tasting room and a cocktail bar. Definitely worth heading east for.
Myriam (Speyside) and her Celtic cousin Sarah (Cork – Ireland) travelled to Clerkenwell where the Bourne & Hollingsworth venue held an Ardbeg tasting and ceilidh. Nothing like Scotland's smokiest whisky to kick off the evening in style! As a fortunate coincidence, two of Cask Trades' customers were in attendance, one who was in the band. We can only assume lots of square dancing ensued as everyone greeted each other with 'Oidhche Bhlas Burns' and 'Slainte Mhath', which we believe translates to 'Happy Burns Night' and 'Good Health'. Bourne & Hollingsworth have two venues in London and are known for great drinks and service.
Over at the Soho Whisky Club, Cask Trade director, Sir Colin Hampden-White (Edinburgh) was in attendance with Josh (Sassenach) for a great event hosted in conjunction with Douglas Laing. Pipers, Burns poetry, Haggis Neeps & Tatties were all in abundance whilst trying several of Douglas Laings whiskies, including a Ben Nevis 25 year and their own blended malt with the splendidly named 'Timorous Beastie'.
Finally, Chloe who hails from the Celtic county of Cornwall and Phil (Sassenach) headed to the prestigious Scottish restaurant and bar Boisdale of Canary Wharf. Here a 4-course traditional Scottish menu was paired with Aberfeldy 12-year whisky. Personally, Boisdale arguably has the best haggis in London and their chef makes it from scratch. Truly delicious! Much consumption of whisky occurred with Glenlivet and Balvenie firmly on the menu whilst 'Scotland the Brave' and 'Flower of Scotland' vibrated throughout the restaurant played by their piper. As a twist on the evening, entertainment Scottish tradition gave way to a Frank Sinatra and Dean Martin tribute act. These singers were absolutely brilliant with all the old favourites like 'My Way', 'New York New York' and 'That's Amore' had the patrons singing along. A brilliant end to a brilliant Burns Night. We should also mention a big thank you to our owner Simon Aron for his generosity in funding our Burns mischievous fun around town.
To find out more about our events and general goings-on at Cask Trade HQ, sign up to our newsletter by ticking the box at the bottom of the registration form. 
Follow us on Instagram, Facebook, Twitter, LinkedIn and YouTube.