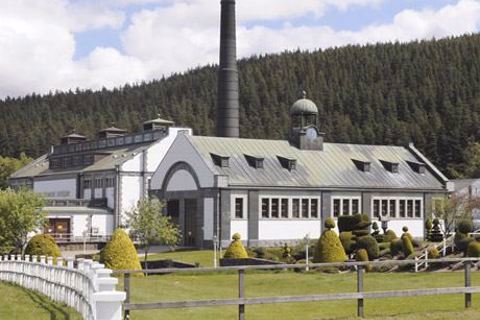 Traditionally there has only been a handful of Tormore Distillery Bottlings and these have not always been a priority for owners Chivas. Before addressing the liquid it's worth noting that the distillery itself is absolutely stunning and before the building began on Macallan's new site, Tormore would well lay claim to Scotland's most visually unique distillery. Built in 1959 by famed architect Sir Albert Richardson it looks very palatial being made out of Scottish granite in a two-toned colour scheme. There is also a clock tower and everything is trimmed in copper and oak with beautifully landscaped gardens surrounding it. Unfortunately, it isn't open to the public but is easily accessible from the main road so if you're in the region it's worth going out your way for the photo album. 
In its short history it has already had four owners and the main purpose of the distillery is to make Malt for the Ballantine's blend (number two top-selling whisky in the world after Johnnie Walker) therefore not much Single Malt is released. However, there are a number of independent bottlings on the market and this distillery certainly has a cult following with whisky enthusiasts. Production is now up to 4.8 million litres and this a very smooth light fruity whisky, with some nutty characteristics on occasion.
If you can find it the 16-year-old (non chill-filtered, 48%) is an example of how good this whisky is and it's a shame that it is such an important part of various blends that it is hidden from so many whisky enthusiasts around the world. For a whisky cask portfolio strategy, there are a lot of ducks in a row here. Firstly, the whisky is very high quality. It is also relatively rare, produced by a good whisky company, and very much in demand by independent bottlers and whisky enthusiasts/collectors. At present, cask prices offer excellent value for money – so there are many, many positives.
Fact File
Name: Tormore 
Founded: 1958 
Region: Speyside 
Owner: Pernod Ricard 
Capacity: 4.8m litres 
Stills: 8 
Fermentation: 52 hours 
Peated/Unpeated: Unpeated 
Casks Used: Bourbon, a small amount of sherry. 
Current Sales: N/A 
Recent significant awards: None entered. 
Independent bottlings: Around 475 
Core Range: None, limited edition 14 & 16 are the only distillery bottlings.
To find out more about purchasing Tormore casks, contact The Masters today!
Find out about how to buy a barrel of whisky or sell a whisky cask and general whisky investment.