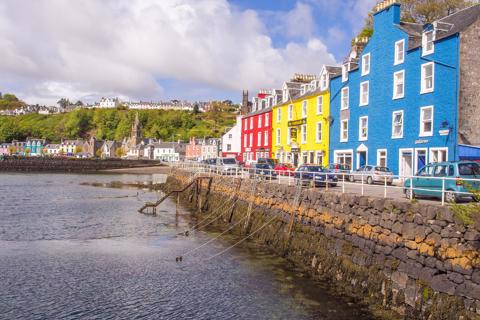 Tobermory Distillery has, at various times in its history, also been called Ledaig. To add to the confusion, it has been bottled under both names. However, today things are a little more clear-cut. Ledaig is now the peaty version and Tobermory is the lighter, more gently unpeated style. Opened in 1798 on the Isle Of Mull, Tobermory Distillery has experienced more than a chequered past, having been mothballed or closed for most of its history.
Although finally in 2019, over two centuries later, it is safe to say that the future looks very bright for this once-neglected distillery. In 2013 Tobermory was sold to South African group Distel International, which has heavily invested in the distillery and brand marketing. Then in 2017, the distillery was closed for a complete two-year refurbishment.  The style of the whisky is dictated by unusually-shaped stills and a kink in the lyne arm which increases reflux.
The unpeated Tobermory is soft and gentle, with tropical fruit and sweet butterscotch notes, whilst the Ledaig peated has a sweet-smoke quality with a long, spicy finish.  For investors, Tobermory Distillery has great potential. The owners are clearly serious about establishing the Single Malt brand and growing sales. With high-quality new packaging, a newly refurbished distillery and a number of exciting new core-range products being released now is the time to purchase a cask.
Fact File
Name:
Tobermory (Ledaig) 
Founded:
1798 
Region:
Highland (Mull) 
Owner:
Distill International ltd 
Capacity:
1.0m litres 
Stills:
4 
Fermentation:
50-100 hours 
Peated/Unpeated:
Unpeated 50% / peated 50% 
Casks Used: Bourbon, Sherry- PX & Oloroso, Marsala, Port, Red Wine. 
Current Sales: N/A 
Recent significant awards:
N/A 
Independent bottlings:
600  Core Range:
12-year Tobermory / 10, 18-year Ledaig.
To find out more about purchasing Tobermory and Ledaig Whisky, contact The Masters today!
Find out about how to buy a barrel of whisky or sell a whisky cask and general whisky investment.