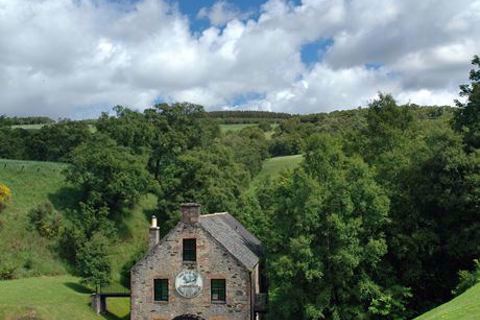 Before the whisky region of Speyside (where the Tamnavulin Distillery is located), all the distilleries in this area were collectively known as 'the Glenlivets'. This came about because in the mid-1800s many distilleries actually just called their whisky 'Glenlivet' to trade on the name. A court case on behalf of the Glenlivet owners meant that all the distilleries had to use a suffix so until the 1980s you would see names like Macallan-Glenlivet, Aberlour-Glenlivet etc.
Tamnavulin Distillery opened in 1966 under the name Tamnavulin-Glenlivet, but considering they are the only other distillery that sits on the River Livet besides its famous neighbour, they certainly had every right to use the name. Initially, it just made fillings for blends but sadly from 1995 to 2007, the owners mothballed the distillery. After reopening it is only in more recent years that the Single Malt bottlings have been released. The style of the whisky is quite light and biscuity due to the half-dozen very large stills and relatively short fermentation time of 48 hours. Interestingly, from 2010 to 2013 they did make a small amount of heavily-peated spirit which is very rare for Speyside.
Today the owners Whyte & Mackay have started to release limited amounts of Single Malt with most of it aged in Oloroso Casks. For investors, it's worth bearing in mind that Tamnavulin Distillery's sister is Dalmore and the owners know what they are doing in terms of wood policy and luxury brand marketing. In the last two years, they have released some well-received expressions finished in Grenache, Tempranillo, Pinot Noir & Cabernet Sauvignon casks. Tamnavulin casks are very good value for money so under the guardianship of Whyte & Mackay (who have openly stated they are shifting the priority from Blends to Malts), now is the right time to invest.
Fact File
Name: Tamnavulin 
Founded: 1966 
Region: Speyside 
Owner: Whyte & Mackay 
Capacity: 4m litres 
Stills: 6 
Fermentation: 54-60 hours 
Peated/Unpeated: Unpeated (from 2010 to 2013 a small amount of heavily peated malt was produced) 
Casks Used: Mainly sherry, some bourbons casks with different wine cask finishes. 
Current Sales: N/A  Recent significant awards: 2020 ISC Awards – Double Gold Tamnavulin Single Cask 1970, Gold Medal Tamnavulin Tempranillo Finish 
Independent bottlings:  Around 225 
Core Range: Double Cask NAS, Sherry Cask Edition NAS – several limited editions. 
To find out more about purchasing Tamnavulin Whisky, contact The Masters today!
Find out about how to buy a barrel of whisky or sell a whisky cask and general whisky investment.