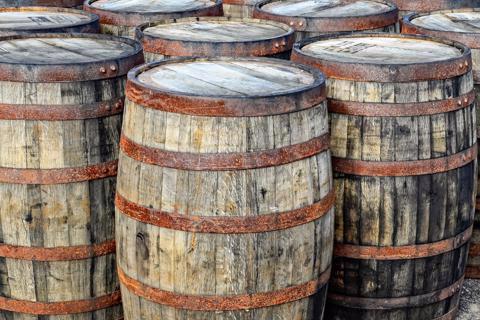 Tamdhu Distillery, like many Speyside distilleries, was opened in 1897 during the late Victorian whisky boom period. Situated in the heart of the region, just outside the village of Aberlour, it would be fair to describe Tamdhu as a late bloomer. Somewhat surprisingly, the distillery was closed in 2009 by the Edrington Group, but was rescued a couple of years later and reopened by Ian Macleod Distillers. Before that though, its chequered history throughout the 20th century consisted of being mothballed and reopened. When it was producing whisky, it was to make Malt fillings for the blends Cutty Sark and Famous Grouse, and single malt bottlings were very rarely seen.
However, under Ian Macleod, everything is rapidly changing. Firstly, they have accelerated the policy of re-racking everything into sherry casks, which has completely transformed the image and perception of the brand. A core range now consists of 10, 12 and 15-year, with a 50-year released in 2017.  The style of the whisky is very classic Speyside and the last sample we tried had rich, sherry notes, tropical fruits and nuttiness, with an underlining crème brulee sweetness. It was truly delicious. Production has been ramped up to three million litres per year and there are certainly big plans moving forward. 
From a cask purchasing perspective, this Malt is undervalued and is a great addition to any portfolio. To the whisky enthusiasts and independent bottlers in the know, there is great demand for this Malt. The general public hasn't caught up just yet, but that will certainly change. Our advice is to try and make a long-term play here because we think the value will accelerate rapidly upwards, as the investment into Tamdhu Distillery and brand by Ian Macleod, starts to reap benefits.   
Fact File
Name: Tamdhu 
Founded: 1897 
Region: Speyside 
Owner: Ian Macleod Distillers 
Capacity: 4m litres 
Stills: 6 
Fermentation: 59 hours 
Peated/Unpeated: Unpeated 
Casks Used: Mainly sherry 1st & 2nd fill, some bourbon. 
Current Sales: N/A 
Recent significant awards: 2020 World Whisky Awards – Gold Medal – Worlds Best Single Cask 
Independent bottlings:  Around 500  Core Range: 10, 12, 15 and numerous limited editions
To find out more about purchasing Tamdhu casks, contact The Masters today!
Find out about how to buy a barrel of whisky or sell a whisky cask and general whisky investment.