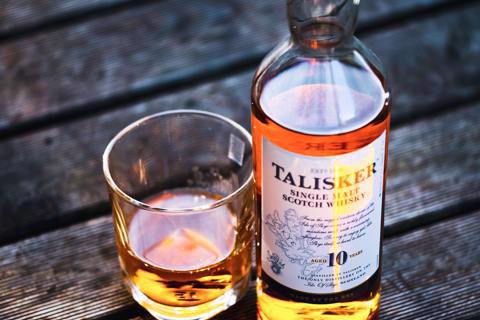 Today, there are over 130 single malt distilleries in Scotland. It is incredible to note the diversity of styles and flavours from a product that is essentially just barley, water, and yeast, and then aged in an oak cask for 3+ years. Within that framework of germination, drying the barley, mashing, fermentation, distillation and maturation it is clear there are infinite combinations and nuances that distilleries apply, which makes their whisky completely unique. We cannot think of another spirit category anywhere in the world which encompasses such variety. Maybe this is what is responsible for capturing the imagination of so many whisky enthusiasts and consumers around the world. Scotland has such a dramatic, beautiful landscape/coastline, and many of these distilleries are found in very remote, isolated locations. Talisker Distillery is on the West Coast of the Isle of Skye and certainly fits all the above criteria.
Controversial Circumstances
Talisker opened in 1830 in quite controversial circumstances. The MacAskill brothers managed to buy extensive landholdings on the Isle of Skye and promptly set about removing the majority of the local populace from the island. However, their new distillery wasn't profitable and a succession of owners throughout the next few decades did not improve its fortunes, until new owners Alexander Allan and Roderick Kemp took over in 1880. Clearly, they had an instant impact as a few years later the famous Scottish novelist and poet – Robert Louis Stevenson – wrote this line 'The king o'drinks, as I conceive it, Talisker, Isla, or Glenlivet!' Talisker was clearly on the map!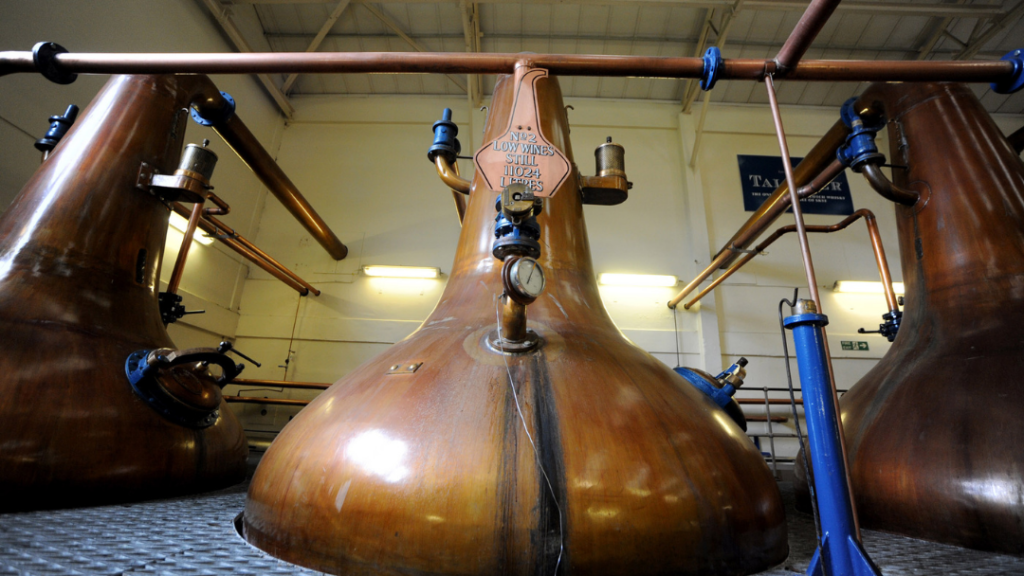 In 1916 Talisker Distillery came under the control of the consortium DCL (which eventually morphed into Diageo), this was probably quite fortuitous as disaster struck in 1960 when fire destroyed the distillery. The whole complex completely burned to the ground! However, the owners set about rebuilding immediately, and two years later Talisker's new-make spirit was flowing again.
Classic Malt
1988 saw the release of Diageo's innovative 'Classic Malt' series, to great success, which included Talisker 10-year-old. Finally, this incredible whisky was being discovered and enjoyed by consumers around the world. The rest, as they say, is history. Although it's worth mentioning that since then, Diageo has released a whole plethora of Old and Rare limited editions, developed an extensive core range, and generally spent heavily promoting this wonderful distillery. The Talisker Atlantic Challenge readily springs to mind, where rowers compete to see who can get from the Canary Islands to the Caribbean in the shortest possible time. Talisker Distillery also has a very successful trade event called 'The Race to Skye'. After a shaky beginning and a turbulent 20th century, it's safe to say that Talisker is entrenched in the top tier of single malt whisky.
A Supurb Whisky
The style of Talisker is this sublime mix of smoke, fruit, salt, and spice all underpinned by a medium-bodied oiliness. It truly is a superb whisky. Interestingly with Talisker, they have a number of unusual nuances which contribute to its signature style. Firstly, there are five stills – two wash stills and three spirit stills. The wash stills are very tall in their design with an extensive U-shaped bend in the lyne arm, combined with a very low purifier pipe. This causes all the heavier elements to be refluxed back into the still, and with reduced copper interaction taking place, causing the new-make to be quite sulphury.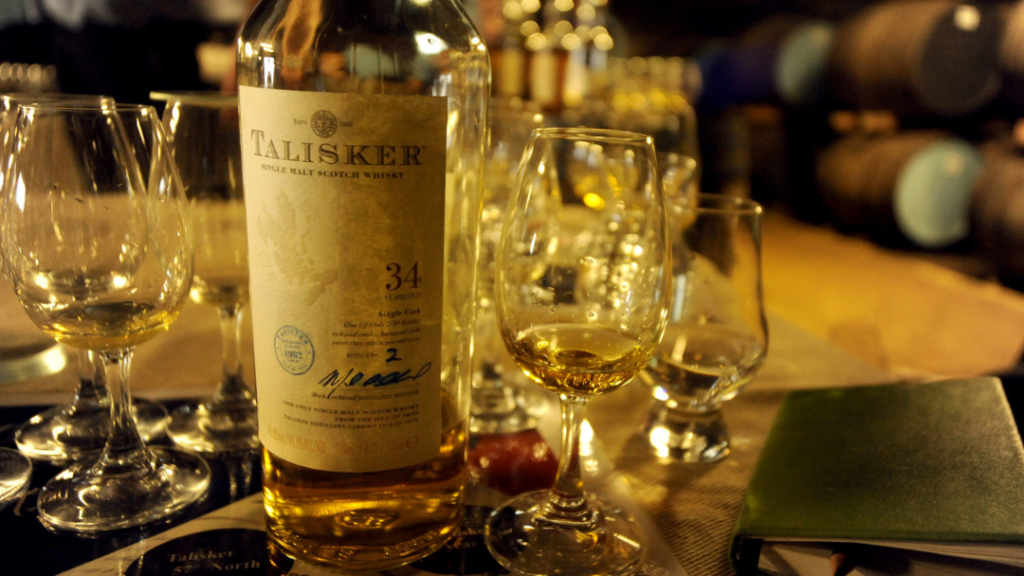 The second distillation takes place in two small spirit stills using worm tub condensers. All this combined creates a medium-bodied, oily spirit with the above-mentioned combination of flavours. This is then enhanced with a wide range of casks used for aging and finishing. The Talisker Port Ruighe which is finished in port casks is a great example of the versatility of the spirit, and is highly recommended. Today, Talisker has an extensive core range with the oldest being a 30-year-old, and the limited special editions include several 41-year-olds and a 43-year-old.  For anyone who has an opportunity to buy a Talisker Distillery cask, the key consideration is the price. Assuming that the regauge health check comes back in good order and that the price is not too inflated then Talisker must rate as a very strong purchase. As a blue riband distillery that is loved the world over, backed by Diageo's powerful distribution network and marketing dollars, it's really only going to continue to go from strength to strength.  
Fact File
Name:
Talisker 
Founded:
1830 
Region:
Highlands (Skye) 
Owner:
Diageo 
Capacity:
3.3m litres 
Stills:
5 
Fermentation:
65+ hours 
Peated/Unpeated:
Peated 75% to 20-25 ppm + 25 % unpeated. 
Casks Used:
Bourbon / Oloroso sherry with many different cask finishes in port, Manzanilla casks and Amoroso sherry. 
Current Sales:
Around 100,000 cases. 
Recent significant awards:
Double Gold 2019 San Francisco IWSA for their 18-year.  
Independent bottlings:
Around 500 
Core Range:
Skye, Storm, Port Ruighe, Distillers Edition, Dark Storm, 10, 18, 25, 30.
To find out more about purchasing Talisker whisky casks, contact The Masters today!
Find out about how to buy a barrel of whisky or sell a whisky cask and general whisky investment.