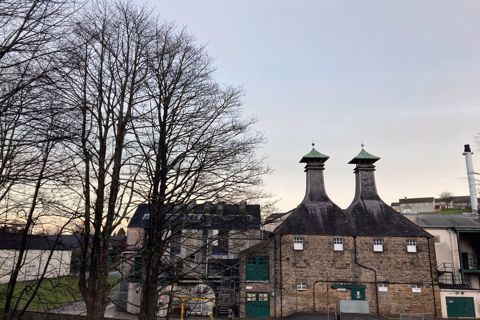 Strathmill Distillery is hidden away in the small town of Keith in Speyside. It is one distillery that sometimes slips under the radar due to the fact that hardly any of it ever gets bottled as a Single Malt. Strathmill opened like many in the late Victorian era and its history has been quite unremarkable. Interestingly it was owned by the gin company W&A Gilbey for about 70 years before becoming part of what is now known as Diageo. Its main function was to make malt for the famous J&B Rare Blend. With J&B being a very light style of whisky it might explain why Strathmill is fitted with a purifier pipe running from the lyne arm to the condenser. This essentially produces a much lighter style of spirit with a slightly oily character which would make sense when you think about the character of the J&B blend.
Production capacity is around 2.6 million litres and they vary the fermentation time between 65 and 120 hours using two pairs of stills. For investors, the attraction here is the rarity of finding any Single Malt from this distillery to drink. Diageo has bottled very little and you can find a 12-year with the whisky specialists if you're lucky. Clearly, the Independent Bottlers would like to get hold of more casks of this to satisfy the curiosity of their legions of Malt Enthusiasts around the globe. This tells us that there will be a strong exit strategy in place so if the price looks right, it would certainly be a useful addition to any portfolio.
Every Strathmill Distillery expression we've seen has been aged in Bourbon Casks and the write-ups for the 23-year and 25-year expressions have been very favourable, so it clearly ages well. Tasting notes: Expect to find a light, spicy, dry, and peppery style. Vanilla and grassy notes also come to the fore.
Fact File
Name: Strathmill 
Founded: 1891 
Region: Speyside 
Owner: Diageo 
Capacity: 2.6m litres 
Stills: 4 
Fermentation: Varied 65 to 120 hours 
Peated/Unpeated: Unpeated 
Casks Used: Bourbon 
Current Sales: N/A 
Recent significant awards: None entered 
Independent bottlings:  Around 450  Core Range: None – very limited official bottlings. 
To find out more about purchasing Strathmill casks, contact The Masters today!
Find out about how to buy a barrel of whisky or sell a whisky cask and general whisky investment.