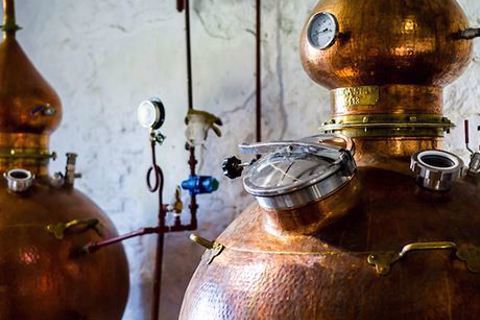 Strathdearn Distillery (a.k.a Tomatin without distillery naming rights) in many ways has had quite a remarkable rollercoaster history. Located in Inverness close to the Western edge of Speyside, the distillery opened up in 1897. Post-World War II it underwent a huge expansion going from two stills up to 23 and making it Scotland's largest distillery. However, the timing was awful as Scotch whisky had just gone into decline and by 1985 the distillery had gone bankrupt and into liquidation.
The saviour arrived from an unexpected source as the distillery was bought by company Takara & Okara and it was the first Japanese foray into Scotch whisky. Under Japanese ownership, Strathdearn Distillery production was downsized and there has been a slow evolution from making fillings for blends into becoming a well-known Single Malt brand. They have in recent years established a core range of a NAS, 12, 18, 30, and 36 years old with many, many limited editions released. In 2010 Tomatin started making a limited amount of peaty whisky which was called Cu Bocan then in 2018 a very rare 50-year-old expression was bottled (£10,000).
Today production capacity is about five million litres with a varied fermentation of between 55 and 110 hours.
They age in a variety of casks and like many distilleries you can find many different finishes.
One important point to highlight for investors is that it is clear that the distillery is making its foray into establishing itself as a premium Single Malt brand very seriously. An example of this is how much they are investing in their wood policy and they now age their whisky in a significantly high percentage of first-fill Bourbon and Sherry Butts. The progress of Strathdearn Distillery has been slow and steady and the liquid has certainly improved since the dark days of the 80s. This has meant that they have slipped under the radar a bit, so adding the odd cask of Tomatin could be a very savvy long-term play for any portfolio. The value is still certainly there.
Find out about how to buy a barrel of whisky or sell a whisky cask and general whisky investment.