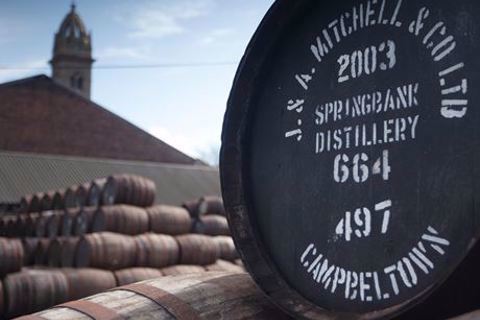 You just have to love everything about Springbank Distillery – you really do. From talking to a lot of whisky enthusiasts over many years this is the name that always crops up. It is real, genuine love and there are many solid reasons for it. In no particular order; they're from Campbelltown and one of the last distilleries standing from a region which used to have over 20, they make great whisky, they support the local community, they don't go in for flashy marketing campaigns, and they make the whisky the old way with part of it using direct fire heat and worm tubs.
Springbank only uses local farmers for their barley, again feeding into the local support. They make three distinct styles with a heavily peated (Longrow), a medium peated (Springbank) and an unpeated (Hazelburn). They also have a limited sustainable production of about 750,000 litres spread across the three styles but with 80% being Springbank. Another rare aspect of the Springbank Distillery is that it is still the same family-owned since 1828! Nowadays the vast majority of distilleries are owned by huge corporations which in some ways has helped the global distribution and investment, but it's nice to have at least one distillery hanging on to its original heritage. Springbank age their whisky in a mix of casks and whilst they are very traditional their goal is to create great whisky for their customers, so they have been very proactive and innovative in using different types of cask finishes to create new flavours and exciting new expressions.
Springbank Distillery whisky itself is complex, powerful, oily, full-bodied but also fragrant and fruity. Longrow is much heavier with very powerful smoky, peaty flavours whilst Hazelburn is triple distilled which makes it generally much smoother, with a blend of toffee and orchard fruit flavours. From time to time we get the odd Springbank cask in stock, although they more frequently feature in our Auction (Auction Your Cask) - our most recent auction saw a 1995 Springbank Sherry Hogshead sell for a rather remarkable £80,000 (hammer price)...! We promise you they won't last very long. Our advice is don't look at the price, just melt the credit cards and buy it. You won't regret it!
Fact File
Name: Springbank 
Founded: 1828 
Region: Campbeltown 
Owner: J & A Mitchell 
Capacity: 750,000 litres 
Stills: 3 
Fermentation: Up to 110 hours 
Peated/Unpeated: Unpeated – Hazelburn / Heavily Peated – Longrow 50-55ppm / Springbank medium peated 12-15 ppm 
Casks Used: Bourbon, sherry, port. 
Current Sales: N/A 
Recent significant awards: Numerous in the past but none entered recently. 
Independent bottlings:  Around 3300 
Core Range: Springbank 10, 15, 18 / Longrow NAS, 18 / Hazelburn 10, 14 Oloroso Cask 
Find out about how to buy a barrel of whisky or sell a whisky cask and general whisky investment.