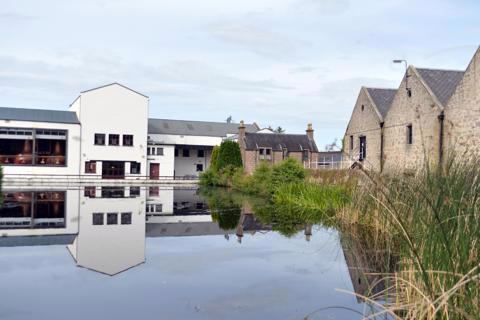 Located in the Highland region just to the West of Speyside is the Royal Brackla Distillery. It is only one of two distilleries today that are allowed to use the 'Royal' name (Royal Lochnagar being the other), due to receiving a Royal Warrant from the then-King William IV way back in 1835 - it was known as 'The King's Own Whisky'.
Legal distilling on this site started in 1812, which was back in the days when most highland whisky would've been made illicitly, so the founder Captain William Fraser, would not have been popular with the local community. Eventually, when the whole industry became regulated and legitimised with the Excise Act of 1823, the distillery began to thrive. For most of its history, Royal Brackla Distillery trundled along just making Malt for Blends, with the famous Dewar's and Lawson's brands being the main recipients.
In 1998 the distillery was bought by the Bacardi group, but it wasn't until 2015 when Royal Brackla really started to be promoted as a single malt. That year a 12-, 16-, and 21-year-old core range was released, and more recently a number of well-received limited editions all finished in either Port, Muscatel, Palo Cortado, PX, and Oloroso Sherry have become available. Bacardi has big plans to expand Royal Brackla's footprint around the world, especially in Asia, which is telemarked by the fact that they've poured funds into ATL advertising in key markets and premiumising their brand image. It is very clear that things are moving in an upward trajectory. 
Current production is now around four million litres per annum, settling on a fermentation time of 68 hours, with four pairs of stills in operation running at near peak capacity of 4.1 Million litres per annum. The whisky is unpeated and has a fairly robust, fruity spicy style, not a million miles away from its Speyside neighbours down the road. From a cask purchasing perspective, it's hard to see how you could go wrong here; the owners clearly have big plans, popularity is growing, the brand image is becoming more premium and the price is still far below the illustrious malts down the road. Most importantly, the whisky is very good - The Royal name isn't going to hurt either!
Fact File
Name: Royal Brackla 
Founded: 1812 
Region: Highlands 
Owner: John Dewar's (Bacardi) 
Capacity: 4.1m litres 
Stills: 4 
Fermentation: 70 hours 
Peated/Unpeated: Unpeated 
Casks Used: Bourbon, sherry with several finishes in red wine & Moscatel 
Current Sales: N/A 
Recent significant awards: 2021 World Whisky Awards – 21-year-old Gold Medal Best in Class. 
Independent bottlings: Around 450 
Core Range: 12, 16, 21. 
To find out more about purchasing Royal Brackla casks, contact The Masters today!
Find out about how to buy a barrel of whisky or sell a whisky cask and general whisky investment.