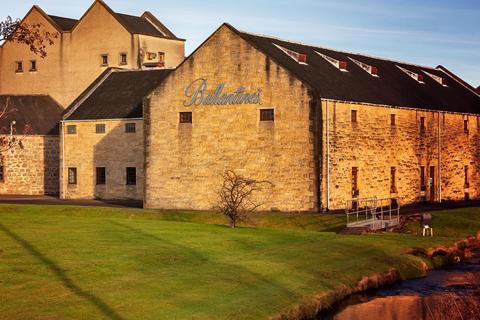 Today, the Ballantine's blend from Miltonduff Distillery is selling around eight million nine-litre cases per year; that's about 96,000,000 bottles! Not too shabby to be only behind the global juggernaut that is Johnnie Walker in sales. Why is this relevant? Well for those of you who have tasted this fantastic malt you'll know how difficult it is to find. The simple reason for this is that these huge global blends of course need plenty of Single Malt Whisky and the heart of Ballantine's is Miltonduff (with Glenburgie the other key player).
Miltonduff Distillery itself is located just South West of Elgin in Speyside, and opened like many in the area in 1824 after the change in the tax laws. Production today is up to 5.8 million litres with a fermentation time of 48 hours, producing a very classic Speyside-style whisky. The ones we've tasted are quite floral with plenty of citrus and orchard fruits, peaches and a hint of spice. Three years ago Chivas Bros released a 15-year Malt but there are a few Independent Bottlings to try and track down.
This is a very astute addition to your portfolio for a number of reasons – firstly, it's rare. Its owners, as stated earlier, need a lot of it for Ballantine's. Secondly, this means it is in demand even more so from independent bottlers so your exit strategy is more than secure. Thirdly this could easily be a superstar Malt because the liquid is very good - for that reason it is underpriced a little. It's always worth reminding yourself about the bigger picture - whilst Single Malts have seen fantastic growth and interest this century it's still blends that make these whisky companies the majority of their income. Very simply this is a buy. If any casks did become available then we wouldn't dither.
Fact File
Name: Miltonduff 
Founded: 1824 
Region: Speyside 
Owner: Pernod Ricard 
Capacity: 5.8m litres 
Stills: 6 
Fermentation: 48-56 hours 
Peated/Unpeated: Unpeated 
Casks Used: Bourbon  
Current Sales: N/A 
Recent significant awards: None entered 
Independent bottlings: Around 825 
Core Range: None – several limited edition official bottlings 
Check out our Virtual Miltonduff Distillery Tour here.
Find out about how to buy a barrel of whisky or sell a whisky cask and general whisky investment.