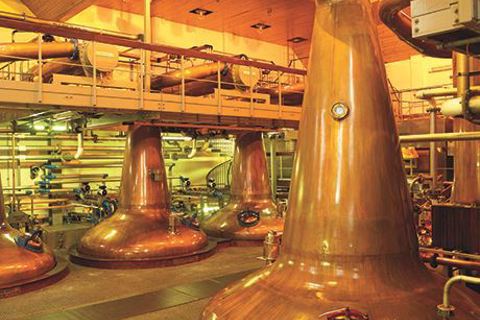 Macduff Distillery is owned by the Bacardi–Dewar's Group and is situated right on the coast just to the east of the Speyside region, so is officially classified as a Highland distillery. Opened in 1960 in the post-war whisky boom, the distillery made malt whisky as fillings for the huge William Lawson blend. However, under the then-owners Italians Martini Rossi, they realised that there was an opportunity for light young Single Malts which suited the Italian palate, so a five-year-old and an eight-year-old were released to much success.
The expansion of the distillery has continued and in 1995 moved under the ownership of Bacardi-Dewar's.  The style of this malt is medium-bodied, nutty, and fruity. The whisky's character is said to come from short mashing, short fermentation time, and extra cold condensers which give a little more texture and weight to the malt.  From an investment perspective, it's worth noting that the owners have plans to expand the sales of the Single Malt under the brand name The Deveron, and at present are promoting a core range at 12-years-old and 18 years old. We've tasted the 18-year bottling before and absolutely loved it, so much depth of flavour with a wonderful silky texture.
The single cask bottlings are also incredible. It's fair to say that Macduff Distillery is one that's quietly slumbering away in its idyllic coastal setting, and one day is going to awaken and start surprising people. It's important to consider that if the Malt is needed for a Blend then the Blend will always take priority as that's 85% of the market. Macduff is certainly worth investing in for its quality and who the very wealthy owners are. Clearly, the independent bottlers love this distillery so there will never be a shortage of options for your exit strategy.  
NB – The official distillery bottlings were originally called Glen Deveron and now just Deveron whilst the independent bottlings are by the distillery name Macduff.
Fact File
Name: Macduff 
Founded: 1960 
Region: Highlands 
Owner: John Dewar's (Bacardi) 
Capacity: 3.4m litres 
Stills: 5 
Fermentation: 55 Hours 
Peated/Unpeated: Unpeated 
Casks Used: Bourbon  
Current Sales: N/A 
Recent significant awards: None entered 
Independent bottlings: Around 900  Core Range: 10, 12, 18. 
To find out more about purchasing Macduff casks, contact The Masters today!
Find out about how to buy a barrel of whisky or sell a whisky cask and general whisky investment.