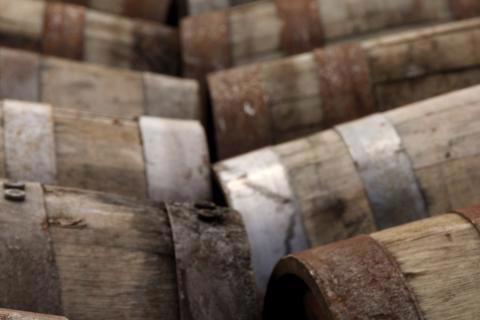 Elgin, where the Linkwood Distillery is situated, is by far the largest urban settlement in the sparsely populated region of Scotland known as Speyside. It boasts the region's only nightclub and possibly the most bonkers statue in the whole of the UK, (Google Dandy Lion Elgin and you'll catch our drift!) but whilst you can't seem to travel more than a few hundred yards before you trip over another distillery, in Elgin there are only two.
Linkwood is part of the Diageo empire but it is incredibly hard to find it bottled as a Single Malt. One of the main reasons for this is that Linkwood Distillery is classified by blenders as a 'top dressing malt'. If you think of all the distilleries being classified by blenders in league tables, you have an elite 10 which are the most sought after - these malts really add a lot of depth of flavour to a blend. Some of these 'top dressers' include Longmorn, The Glenlivet, Highland Park, Macallan, and of course Linkwood.
When you think that blended Scotch whisky still accounts for about 85% of the global market then you'll understand why the availability can be very limited, as the blends are where the whisky companies still make the bulk of their profits. Linkwood Distillery can trace its history back to 1821 and they age their whisky in a variety of casks, but these rarely come onto the market. Recently, a 37-year limited-edition was released which gained a few plaudits from the whisky writers.
If a Linkwood cask comes onto the market be aware that this is a leading Premiership Malt, despite not having the fame of some of its Speyside cousins.
Fact File
Name: Linkwood 
Founded: 1821 
Region: Speyside 
Owner: Diageo 
Capacity: 5.6m litres 
Stills: 6 
Fermentation: Varied between 65-100 hours 
Peated/Unpeated: Unpeated 
Casks Used: Bourbon  
Current Sales: N/A  Recent significant awards: None entered 
Independent bottlings: Around 1750 
Core Range: None – several limited-edition releases 
Find out about how to buy a barrel of whisky or sell a whisky cask and general whisky investment.