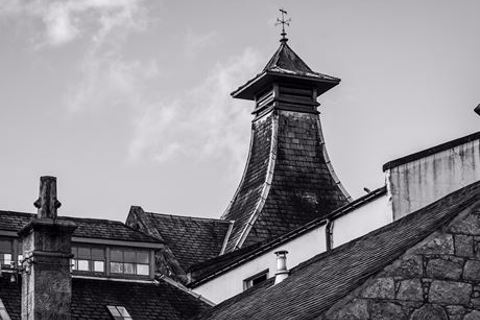 It was probably destiny that a distillery was going to be built on the Knock Estate by Huntly in Aberdeenshire. With a high-quality water source, surrounded by fields of barley, a peat bog close by and a newly opened railway station to connect with the world. Therefore in 1893, the Knockdu (which means 'The Hill') distillery opened. Production up until 1988 was very stop-start with the distillery closing and reopening several times. During WWII it closed and was used to house Indian troops! It's a fairly small distillery that for many years flew under the radar a little bit compared to some of the famous big celebrities down the road in Speyside but recently it has started to make a name for itself.
This century they have increased production with about 25% of that heavily peated. When we tasted it we found it quite sweet and floral with a gentle sweet smoke on the pallet, a very easy drinking malt with a dryish finish. They have entered a lot of the global competitions in more recent years and their 12 and 18-year expressions have started to pick up a significant number of awards. If you're looking for a Malt that is starting to climb the ranks and could get promoted to the premiership then Knockdu is seriously worth looking at. As a final note, the distillery usually trades under the name 'AnCnoc' as Knockdhu was being confused with the unrelated Knockando distillery.
Fact File
Name: Knockdhu (anCnoc) 
Founded: 1893 
Region: Highland 
Owner: Inver House 
Capacity: 2m litres 
Stills: 2 
Fermentation: 65 hours 
Peated/Unpeated: 75% Unpeated / 25% Heavily Peated with a 45ppm 
Casks Used: Bourbon & sherry 
Current Sales: N/A 
Recent significant awards: 2019 World Whisky Awards – Gold Medal Peatheart 
Independent bottlings: Around 50 
Core Range: 12, 18, 24 year. 
To find out more about purchasing Knockdhu Whisky, contact The Masters today!
Find out about how to buy a barrel of whisky or sell a whisky cask and general whisky investment.