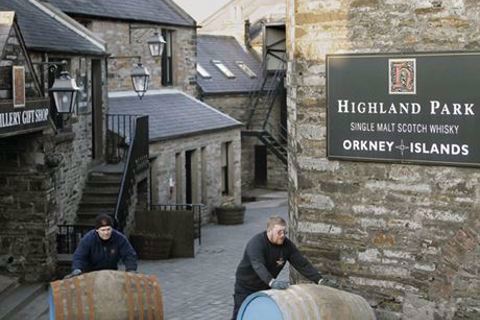 If Macallan takes the top spot for the best-marketed single malt brand of the 21st century, then there could be a very strong argument for Highland Park Distillery taking the runner-up spot. Owners of the Edrington Group (same as Macallan) have cleverly played on the Orcadian Norse history with plenty of references to Vikings, Norse gods, and other mythical characters. The distillery itself is shrouded in mystery as to when it opened... 
Was it 1798 as the marketeers today are going with? Or, as some evidence suggests, did it not properly start operations until the later 1800s? Whatever the truth, the early years were very uneventful, and the distillery just made filling for blends until 1979, when showing incredible foresight, the owners start to invest in the single malt brand. The first release was an eight-year-old followed by a 12 and an 18-year. The brand quickly built up a cult following, which in more recent times has cleverly been reinforced by the brilliant marketing campaign. 
Highland Park Distillery has the distinction of being the most northerly whisky distillery in Scotland and sits on the hill in Kirkwall just above Scapa, which overlooks the famous Scapa Flow. Production is surprisingly a lot less than many people think at 2.5 million litres (Glenlivet is 21 million), and two pairs of stills operate with a fermentation time of 52 to 96 hours. Unusually for the modern age, a significant percentage of the floor malting is done on-site (around 30%). Highland Park produces two types of malt with the peated having a ppm of 30-40 which is then blended in with the unpeated.
Interestingly, the peat is very different in Orkney compared to what is found in Islay. For example, Islay's peat is smokier due to having more marine vegetation that contains creosol which is picked up as tar. Islay peat also contains lignin which comes from the trees and again adds a smokier taste. Orkney has no trees and so the peat is entirely composed of moss and heather. The smoke is thus lighter, more aromatic, and fragrant. This gives Highland Park a unique flavour profile, taking advantage of the island's microclimate and fauna which is completely different from the mainland.  
Highland Park Distillery also has a wood policy which has greatly enhanced its reputation and flavour profile, as since 2004 all the whisky has been aged 100% in sherry casks. This adds an extra richness to the whisky. When you taste Highland Park, it is robust, salty, spicy but also aromatic, fragrant and fruity, underpinned by a light soft smoke. It's not hard to understand the distillery's universal popularity within the single malt drinking community. The Highland Park 18-year especially seems to win a number of awards and acclaim. 
From time to time, we have Highland Park casks on our stock list. As a stockist, we own every single cask we sell and will not purchase anything which is overpriced. If a Highland Park cask is available, then this is a rare opportunity to own a blue riband distillery. The success of their 40 and 50-year bottlings is evidence of how well the whisky ages. A wonderful short, medium, long-term opportunity.   
Fact File
Name:
Highland Park
Founded:
1798? 
Region:
Highland – Orkney 
Owners:
Edrington 
Capacity:
2.5m litres 
Stills:
4 
Fermentation:
52-96 hours 
Peated/Unpeated:
Peated 30% at 30-40 ppm 
Casks Used:
Sherry casks after 2004 using both European and American oak 
Current Sales:
N/A 
Recent significant awards:
2021 Double Gold San Francisco ISA for Highland Park 18 
Independent bottlings:
Around 2500 
Core Range:
10, 12, 15, 18, 21, 25, 30 and 40
Countless limited editions including 3 series of the Viking Legend series and a large number of single cask bottlings.
To find out more about purchasing Highland Park Whisky, contact The Masters today!
Find out about how to buy a barrel of whisky or sell a whisky cask and general whisky investment.