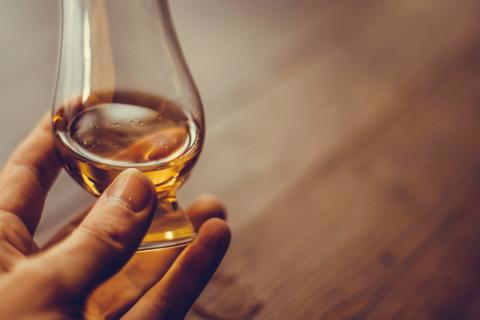 Let's start with the definition of Corn Whiskey as there is always some confusion on this. Whilst other forms of American whiskey have to follow the same rules when it comes to cask maturation i.e. aged in charred first-fill white oak casks, corn whiskey has a lot more latitude as it doesn't have to be aged. If it is then it can be in used barrels of any description. It also has to have a mash bill of at least 80% corn whilst bourbon only has to be 51%.   Located in Louisville Kentucky and still family-owned to this day, the Heaven Hill Distillery first opened its doors after the prohibition in 1935. Today they make a whole variety of highly respected and sought-after brands including Heaven Hill, Pikesville, Elijah Craig and Evan Williams. 
The Corn Whiskey casks we have available have a fascinating story. They were distilled back in 2009 and initially aged in the traditional American white oak barrels until 2018 when it was shipped over to the UK. They were supposed to be re-racked back into bourbon casks but incredibly there were none available and all they had to spare at the warehouse were five ex-Glenrothes sherry puncheons, so the Corn Whiskey was filled into them. This has created one of the most fabulously unique whiskies we have ever tasted. We recently tasted from the five sample bottles sitting at Cask Trade HQ. When nosing them your senses immediately pick up warm rich red fruits with ginger, raisins, and hints of chocolate orange before giving way to an underlying wave of vanilla, coconut, and spicy corn/rye notes. These three years it has spent in the sherry casks have certainly been transformative. All the casks are also still sitting at impressively over 65% ABV! 
Looking at this from an investor's perspective this is an opportunity to own a very unique whiskey. Currently, in the US there are a growing number of distilleries that are now making Corn Whiskey, and we are also seeing an increasing number of independent bottlings appear. We have also started seeing Corn Whiskey appearing at many whisky shows which is more evidence of its growing interest.
Independent Bottlers will be queuing up for these casks because they are so unique and the whiskey is simply delicious. The exit strategy is there to see for any investor. Finally, it's made by the Heaven Hill distillery which is very highly respected, award-winning and with great heritage. Heaven Hill has also just opened a new $19,000,000 visitor centre. This is clearly a distillery looking to the future with real confidence and the image of this brand is only going to grow.
To find out more about purchasing Heaven Hill Corn Whiskey casks, contact The Masters today!
Find out about how to buy a barrel of whiskey or sell a whiskey cask and general whiskey investment.