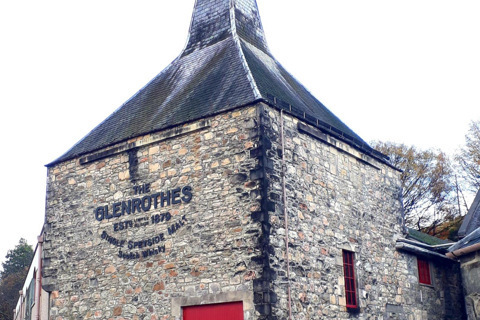 From a personal point of view, we've always liked Glenrothes Distillery. Phil Huckle our Brand Exec used to host a few tasting at Berry Bros (the previous owners from 2010 to 2017) and got to sample quite a bit of the range. It was around this time that they started releasing many different special editions. It was clear that this was a very versatile whisky that prospered in a whole range of different casks and at different ages. Phil even remembers tasting a peated cask which was very impressive. In more recent times though the brand has been sold back to previous owners the Edrington Group. They have since continued investing in the promotion of the Single Malt bottlings side of the operation. 
The distillery itself has a very familiar history in the fact that it was born in 1878 in the late Victorian boom-time years. The whisky was considered excellent fillings for blends and to this day is a key part of both the famous Cutty Sark & Famous Grouse blends. Today they are producing about four million litres of spirit with 44 mashes per week. Interestingly they also have a cooperage on-site where they repair many casks for the distillery and the Edrington Group in general. This is a very complex classic Speyside malt which ages very well. It is medium-bodied with lots of rich nutty spicy notes.
This distillery is already established as a growing Single Malt. It certainly doesn't hurt that its two sister distilleries are Highland Park and The Macallan and we see the value of Glenrothes just continuing to rise. Independent bottlers will snap this malt up and the fact that two years ago a 50-year-old expression was released (£25,000 per bottle!) shows it ages well and there is a versatile exit strategy. They also age the bulk of their whisky in the increasingly rarer sherry casks which are also in demand. To conclude, this is a very investible distillery which could easily join the blue riband club of its two famous sisters. A valuable addition to any portfolio.
Fact File
Name: Glenrothes 
Founded: 1878 
Region: Speyside 
Owner: Edrington 
Capacity: 5.6m litres 
Stills: 10 
Fermentation: 58 hours 
Peated/Unpeated: Unpeated 
Casks Used: Bourbon & sherry 
Current Sales: 600,000 bottles / 50,000 9l cases. 
Recent significant awards: Nothing entered recently. 
Independent bottlings: Around 1500 
Core Range: 10, 12, Whisky Makers Cut, 18, 25.  
To find out more about purchasing Glenrothes casks, contact The Masters today!
Find out about how to buy a barrel of whisky or sell a whisky cask and general whisky investment.