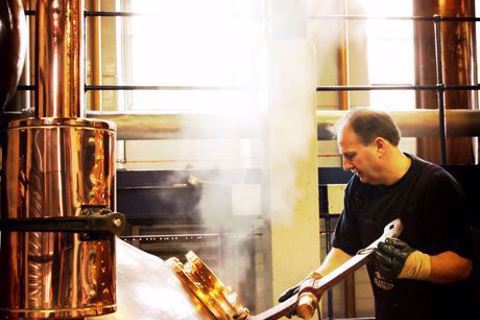 Deanston Distillery is located about 40 miles to the North-West of Edinburgh. Opened in 1965 on the site of a huge former cotton mill Deanston is starting to carve out a name for itself after a stumbling start. In the 1980s Scotch whisky was experiencing some tough economic times so the distillery was closed for nine years but with new owners, it slowly started to recover. With a long fermentation (85 hours) and a slow distillation, the new-make spirit is quite waxy in style. It clearly ages very well in all manner of casks as in recent years expressions finished in Virgin Oak, Muscat, Pedro Ximenez, Pinot Noir, Bordeaux, Calvados & Port casks have all appeared. Their 40-year release a couple of years ago has been well received which is a great testament to its longevity in the cask.
As a side note, they are winning plaudits for being one of the greenest distilleries in Scotland using the water turbines to create all the power needed, with enough excess to sell onto the national grid. Single Malt enthusiasts are starting to discover this malt and Deanston prides itself in all its bottlings being free from caramel colouring and chill filtration. This certainly scores points in the enthusiast community. Currently, Deanston Distillery doesn't have the illustrious image of the big boys but could be a very savvy long-term play.
Fact File
Name:
Deanston 
Founded: 1965 
Region: Southern Highlands 
Owner: Distell International (South Africa) 
Capacity: 3m litres 
Stills: 4 
Fermentation: 85 hours 
Peated/Unpeated: Unpeated 
Casks Used: Bourbon & sherry casks plus numerous finishes using port, wine, calvados casks. 
Current Sales: N/A 
Recent significant awards: 2021 World Whisky Awards – Deanston Virgin Oak Best in Category. 
Independent bottlings: Around 350 
Core Range: 12, 18. 
To find out more about purchasing Deanston casks, contact The Masters today!
Find out about how to buy a barrel of whisky or sell a whisky cask and general whisky investment.