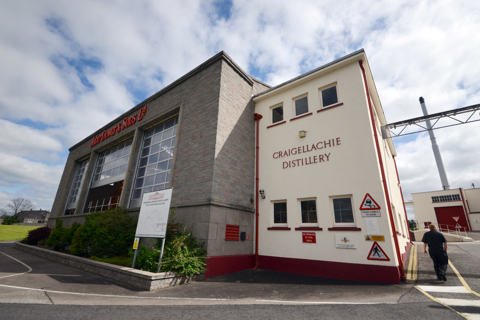 Craigellachie is a fully paid-up member of the Speyside 'meaty' club with Cragganmore, Benrinnes, and Mortlach. Like so many distilleries it opened up in the late Victorian boom-time in the 1890s and had a very unremarkable history until after the millennium. It really is quite incredible that so many of these wonderful Single Malt distilleries just made fillings for blends and their delicious spirit was never tasted by consumers. The new-make of Craigellachie is actually very sulphury which is quite off-putting when you nose it. However, this is temporary because when the spirit is aged these notes completely disappear leaving a whisky that is full-bodied and aromatic with wonderful tropical fruit notes.
The pungent sulphur notes come from the more limited interaction between the copper and the spirit whilst the heavier 'meaty' style is certainly enhanced by the fact that Craigellachie is one of the few distilleries left that still uses a traditional worm tub condenser. Fermentation time is relatively long at 60 hours and production is around four million litres per year. In 1998 the distillery became part of the Dewars group and finally in 2004 single malt bottlings started to be released. In 2014 a core range of 13, 17, and a 23-year-old were released and whisky consumers became aware of this wonderful malt. From an investment perspective, this is a great addition to any portfolio for a number of reasons. Firstly as explained above the liquid is of the highest quality and the fact that it has been hidden away for so long means it is very much in demand from whisky enthusiasts. In recent years there has been a dazzling myriad of independent bottlings which tells its own story. Our advice with Craigellachie is to wait until it is at least 15 years old.
It truly does get much better with age after its very sulphury birth. We talk a lot about the magic ages of 10/12/15/18/21 and 25 but we think this is an excellent long-term play if you can wait until it is 18 to 25 years old. Other factors to consider are that its owners' Dewars have deep pockets and have big plans to promote the Single Malt globally. We can only see the image of this brand being greatly enhanced in future years. Essentially you have a lot of flexibility on whatever exit strategy you wish to pursue so this has to rate as a very strong buy.
Fact File
Name: Craigellachie 
Founded: 1891 
Region: Speyside 
Owner: John Dewar's (Bacardi) 
Capacity: 4.1m Litres 
Stills: 4 
Fermentation: 56-60 hours 
Peated/Unpeated: Unpeated 
Casks Used: Bourbon with some sherry casks. 
Current Sales: N/A 
Recent significant awards: 2017 World Whisky Awards Gold Medal / 2021 Silver Medal for the 13-year-old. 
Independent bottlings: Around 900 
Core Range: 13, 17, 23-year old. 
To find out more about purchasing Craigellachie Whisky, contact The Masters today!
Find out about how to buy a barrel of whisky or sell a whisky cask and general whisky investment.