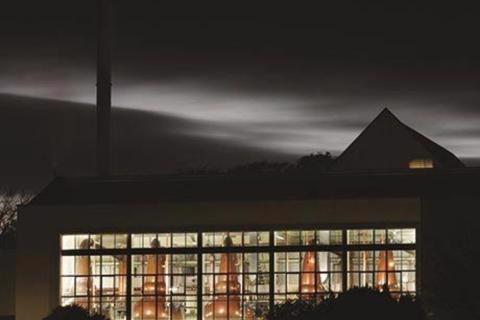 Wax! This would be the one-word description of the Clynelish Distillery, which has become a real cult favourite amongst whisky drinkers worldwide. Production consists of clear worts and a long fermentation, interestingly with larger spirit stills than wash stills. The extra interaction of the copper helps to produce quite a medium-bodied, fruity spirit, but it was the oils in the feint's receiver, the distillery discovered, where this unique waxy quality comes from.  
The Clynelish Distillery opened in 1819 and after a troubled beginning, eventually became a key component in the Johnnie Walker blend. In 1967 a new sister distillery next door was opened and was also called Clynelish. The following year the 'old' distillery closed, then reopened a couple of years later under the name Brora. The Brora distillery though sadly closed in 1983, leaving the 'new' Clynelish to soldier on alone. Moving into the 21st century, Diageo started to release a number of limited editions, plus a core range 14-year old. Suddenly Clynelish Distillery was very much on the map with malt enthusiasts, and its reputation rapidly grew from there.
The Game of Thrones House of Tyrell limited release has recently received great fanfare. Clynelish is now well and truly established at the top table of Single Malt Whisky!  For investors, it is worth considering that Clynelish casks rarely come onto the market place and it is a cast-iron certainty that there will be long line of Independent Bottlers wanting to purchase. Your exit strategy is secure. 
Fact File
Name:
Clynelish 
Founded:
1819 
Region:
Northern Highlands 
Owner:
Diageo 
Capacity:
4.8m litres 
Stills:
6 
Fermentation:
55 hours 
Peated/Unpeated:
Unpeated 
Casks Used:
Bourbon, Sherry. 
Current Sales: N/A 
Recent significant awards:
N/A 
Independent bottlings:
Around 2000 
Core Range:
14 yr, Distillers Edition.
To find out more about purchasing Clynelish Whisky, contact The Masters today!
Find out about how to buy a barrel of whisky or sell a whisky cask and general whisky investment.