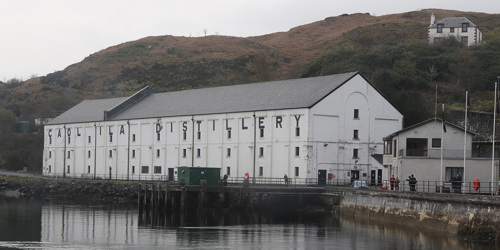 Translating to 'Sound of Islay', Caol Ila Distillery is certainly one of the most loved distilleries by all the peat enthusiasts around the world. Opened in 1846 it was bought out by the DCL company in 1927 (later to morph into Diageo), and ran continuously until the owners decided to demolish the old distillery and build a new one in 1972. This transformation meant that Caol Ila Distillery was the largest whisky producer on Islay. This was before single malt whisky was widely available and the main purpose of Caol Ila was to make fillings for the Johnnie Walker Blend.
Interestingly in the severe 1980s downturn, they started to make an unpeated version for other blenders. This did in fact allow the distillery to survive these rough times (unlike its sister distillery Port Ellen), and a little-known fact is that Caol Ila has actually continued to make a limited amount of unpeated whisky every year since. In more recent times, Diageo has invested a lot into the single malt brand including in renovating the visitor centre, and thus nowadays Caol Ila Distillery can be considered one of the top-tier distilleries. The future certainly looks very bright. The character of the whisky undoubtedly has its own uniqueness.
Caol Ila has a distinct ripe pear characteristic, combined with smoke and salt, and underpinned by grassy notes. Distillation features tall stills and a higher cut point. The fermentation time is 55 hours and most of the malting is actually done in-house, which is very rare these days. Maturation mainly occurs in refill bourbon casks. The importance of Caol Ila Distillery Whisky to the Johnnie Walker Blend meant there were very few distillery bottlings until the turn of the century. Today the core range consists of the entry-level NAS, plus the 12-year, 18-year and 25-year. Caol Ila of course also features annually in Diageo's Special Releases series. To date, there have been over 4000 independent bottlings of the brand, but casks are becoming increasingly rare as the value of this distillery to its owner increases.
Any investor who is fortunate to own a cask should know how much these casks are still sought-after by the bottling companies. The award-winning 25-year expression is evidence that the whisky generally ages very well, so there would be plenty of flexibility in your exit strategy.  
Fact File
Name:
Caol Ila Founded:
1846
Region:
Islay
Owner:
Diageo
Capacity: 6.5m
litres
Stills: 6
Fermentation:
55 hours (short) to 120 hours (long)
Peated/Unpeated: Peated with a limited amount of unpeated. Casks Used: Bourbon, Sherry.
Current Sales:
N/A
Recent significant awards:
N/A
Independent bottlings:
Around 2000
Core Range: 14 yr Distillers Edition
Caol Ila 12-year Tasting Notes: 
Nose – Smoke, peppermint, poached pears. Palate – Stewed Apples, Vanilla, Kiwi fruit. Finish – Burning coals, Honey, Caramel.
To find out more about purchasing Caol Ila casks, contact The Masters today!
Find out about how to buy a barrel of whisky or sell a whisky cask and general whisky investment.