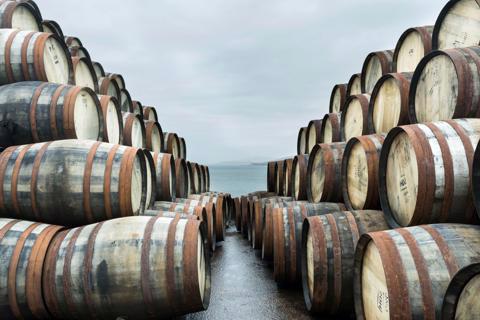 Bunnahabhain… We think it would be only right to start off with the pronunciation – Boon*ah*hav*enn – because let's face it, if you're not swinging a claymore sword around the Highlands you're probably going to be slightly flummoxed. The translation of the name actually means 'Mouth of the River' and Bunnahabhain Distillery is located on Islay's rugged north coast. It was built in 1881 by the whisky blenders Robertson & Baxter. Besides building the distillery, they also built houses and a community for their workers, plus a road with a pier to link to the outside world. It was certainly an impressive project.
With the owners being blenders, it was clear that the destination for the whisky was only heading in one direction and Bunnahabhain became one of the central Malts for Black Bottle, Famous Grouse, and Cutty Sark.  In the 1960s whisky boom production doubled and today they have a capacity of 2.7 million litres, which they split between roughly 1/3 peated to 2/3 unpeated. Interestingly they have really increased the phenol specification to 35-45ppm, (as a point of reference Laphroaig is 45ppm). Today, the focus is very much on building the brand as a Single Malt bottling, and under owners Distell International they have invested a lot of money with great success.
The core range now consists of a 12, 18, 25, and 40-year-old, combined with numerous exciting limited-edition releases, such as the heavily peated Cruach-Mhona and the Eirigh Na Greine, which has vatted together Sherry, Bourbon, and Red Wine Casks. Evidence of this success is the fact that sales have risen 160% in the last few years and it is clear with the excellent repackaging and innovative marketing, that the brand equity is also rising fast.  
Another important factor for investors to consider is Bunnahabhain Distillery is very much revered by Indie Bottlers and so far there have been over 3000 Independent Bottlings to date! This itself is very significant because the bottling companies will certainly be interested in your purchased cask, and this can be a key part of your exit strategy.  Currently, on our stocklist, we have a rare 2007 Bunnahabhian Sherry Butt. Our recommendation for investors here is that at 14 years old and with a current ABV of 59% there is a multitude of options open. The short-term option would be to wait until it is 18 years old, which is a very appealing age for most Independent Bottlers. Following that, the key milestone ages are 21, 25, and 30.
To conclude Bunnahabhain has certainly muscled its way into the top tier of distilleries in the last few years and with owners heavily investing behind its future growth, this has to be a welcome blue ribband addition to any portfolio.
Fact File
Name: Bunnahabhain 
Founded: 1881 
Region: Islay 
Owners: Distell International 
Capacity: 2.7m litres. 
Stills: 4 
Fermentation: 50 – 100 hours 
Peated/Unpeated: Both 1/3 Peated at 35-45 ppm / 2/3 unpeated. 
Casks Used: Mainly sherry but some bourbon and numerous finishes for special editions. 
Current Sales: 600,000 bottles (50,000 9l cases) 
Recent significant awards: ISC – International Spirits Challenge -  2019 Double Gold including best in category for the 25yr, Gold Medal for the 12-year. 
Independent bottlings: Around 3000.  Core Range: 12, 18, 25, 40 year. 
To find out more about purchasing whisky from Bunnahabhain Distillery, contact The Masters today!  
Find out about how to buy a barrel of whisky or sell a whisky cask and general whisky investment.