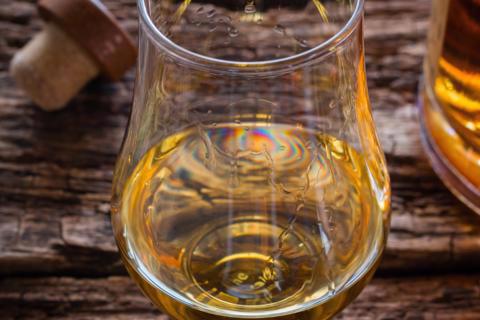 Braeval Distillery is the sister distillery of Allt-a-Bhainne but is the much more attractive of the two on the eye. Even though they were both built at the same time the architectural styles couldn't be more different. One is built in the post-war concrete style whilst Braeval is elegant and traditional with its white-washed buildings and tall pagoda roof. Opened in 1973 by the famous Seagram group it was built with the intention of making high-quality fillings for their numerous blends. Interestingly the location was determined because Seagram believed that the famous Glenlivet Distillery (which their chairman Edgar Bronfman desperately wanted to buy), made great whisky because of its pure water source, so by building a distillery in the same valley then the stardust would, in theory, rub off on Braeval.
At the time it was even named Braes of Glenlivet to further link it with its illustrious neighbour. Moving into the 1980s blended Scotch whisky went into a sharp decline which caused many whisky companies to start closing distilleries. Around this time for example Brora, Rosebank, and Port Ellen all shut their doors. However, Seagram under the bold dynamic leadership of Edgar Bronfman bucked the trend and put all their distilleries (which by then did include The Glenlivet) into full-time production. They had wagered that the Scotch Whisky Industry would turn around again and in the long term, they would put themselves in prime position by having an abundance of aged casks. This turned out to be correct. Braeval went from three pairs of stills to six with the capacity increased to 4.2 million litres. From an investment perspective, Braeval is a very interesting proposition.
It took until 2017 for the distillery to release any official Single Malt bottling, and even that was a Single Cask bottling of just a few hundred bottles. The following year limited edition 25, 27, and 30-year-old bottles were released for Travel Retail. These were very well received and showed just how good the liquid actually is. One suggestion because of the rarity factor is to test the water from time to time with our Auction Your Cask site. Set a high reserve and watch for the takers. Personally, we're big fans of the liquid. Older expressions were sweet and floral with a lovely complex finish and it's such a shame this wonderful malt has been hidden away for most of its history. To conclude, Braeval Distillery makes great whisky. It also has illustrious owners in Chivas Brothers, and has the rarity factor in abundance. Assuming the price is right and the age of the cask suits then we would rate this a strong buy.
Fact File
Name: Braeval  
Founded: 1973 
Region: Speyside 
Owner: Pernod Ricard 
Capacity: 4.2m litres 
Stills: 6 
Fermentation: 70 Hours 
Peated/Unpeated: Unpeated 
Casks Used: Bourbon barrels and hogsheads 
Current Sales: N/A 
Recent significant awards: None entered 
Independent bottlings: Around 250 
Core Range: None 
Find out about how to buy a barrel of whisky or sell a whisky cask and general whisky investment.