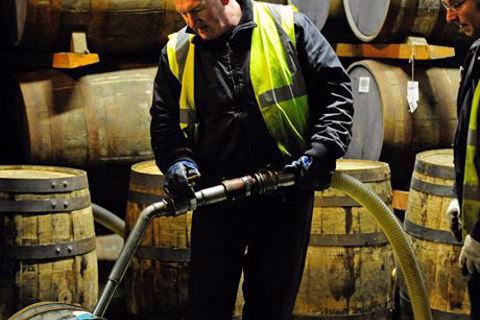 Ardmore is located right on the Highlands/Speyside border in the middle of the rural Aberdeenshire wilderness. Opened in 1898 it has a similar story to many distilleries opened in the late Victorian era. Blended whisky was booming and the distillery was opened in an area that had a water, barley, peat supply right next to the railway. For most of its history Ardmore was hidden away from malt enthusiasts as it was one of the key malts in the Teachers Blend but when Beam-Suntory took over in 2006 things rapidly started to change.
The new owners started to release single malt expressions including several well-received 25 Year 30-year-olds. We'd describe Ardmore as a light to medium peated malt with a ppm of 12-14, interspersed with the light smoke is vanilla, orchard fruits and floral notes… Interestingly sales of their Single Malt bottlings are now up to about 60,000 nine litre cases globally which has combined with a steady decline in sales of the Teacher blend. It seems to have built up a bit of a following with many Malt aficionados and is certainly a distillery to watch.
Fact File
Name: Ardmore 
Founded: 1898 
Region: Highlands 
Owners: Beam Suntory 
Capacity: 5.5m litres 
Stills: 8 
Fermentation: 55-70 hours 
Peated/Unpeated: 45% unpeated / 55% peated at 12-14 ppm. 
Casks Used: Mainly bourbon, limited amount of port for finishing. 
Current Sales: 700,000 bottles / 58,000 9l cases. 
Recent significant awards: None entered 
Independent bottlings: Around 1200 
Core Range: Legacy, 12 year Port Finish.