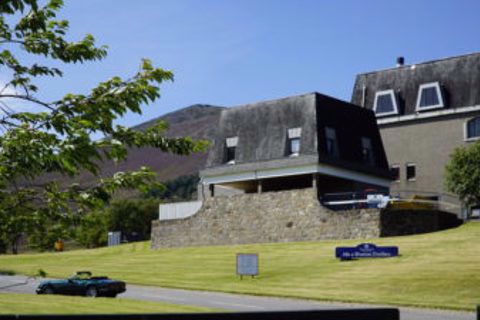 Pronounced 'Alt a van yer' which translates as 'Milk Burn'. A burn is of course Scottish for a small stream, although the relevance of Milk remains a mystery to many! The distillery itself was built in 1975 by the Seagram group (and sold to Pernod Ricard in 2001) and like all 70s architecture has never looked aesthetically pleasing. Now the good news – the liquid is very good. The distillery was built to make malt whisky for some of Seagram's blends including the very popular million case brands like Passport, 100 Pipers and Something Special.
Very little whisky has been released for single malt bottlings so it has become quite collectible. Production is now just over a healthy four million litres per year with the distillery working seven days and 25 mashes per week to keep up demand. Fermentation time is 48 hours and they produce two distinct styles. Firstly a more traditional Speyside style which from my notes had hints of vanilla, cinnamon, grapefruit, and honey, and a peaty style with a phenol content between 10 and 20ppm. This peaty style has a wonderful soft smoke balanced by vanilla sweetness.
To find out more about purchasing Allt-a-Bhainne casks, contact The Masters today!
Find out about how to buy a barrel of whisky or sell a whisky cask and general whisky investment.