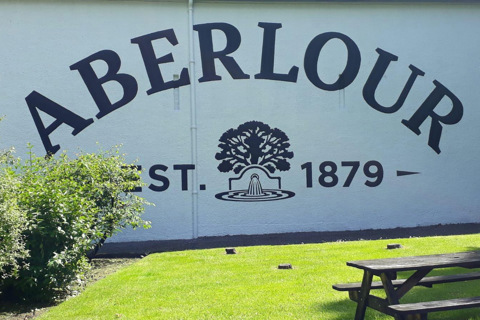 Aberlour Distillery (Gallic translation 'mouth of the chattering burn') was opened by local businessman/banker James Fleming in 1879. Fleming was a remarkable character who had become very wealthy with a variety of businesses in the late Victorian era, so he decided to invest in a local distillery. His family motto was 'let the deed show' and he used a lot of his wealth to improve the lives of the local people who were relatively impoverished at that time. Fleming built a local hospital, a school, and a bridge across the fast-flowing River Spey. He also installed the first gas lamp street lighting in the village.
The really interesting part in all of this is he never let them know that it was his money doing all these wonderful things for the local people. It was only after he passed away that this knowledge came out, therefore if you travel to the village today his name is still everywhere and he is still revered. The distillery today has a capacity of 3.8 million litres and is the 7th top-selling single malt globally. The fermentation time is 48 hours but the distillation is very slow which helps give the whisky its incredibly fruity characteristic. The distillery also has very long-standing relationships with various Spanish sherry bodegas which means it is never short of the increasingly rare Sherry Butt casks. Aberlour in fact ages very well in these casks which is evidenced by the wonderful Aberlour Abunadh ('The Original' in Gallic). When you taste any Aberlour you always get big bold fruity flavours and some people detect mint and blackcurrant which has become a bit of a signature for its style.
The core range goes from 12 to 18 years with many more expressions available in its core market of France (where it is No.1). From an investor perspective, this is a premier league malt with a great global reputation, and thanks to the Abunadh expression is held dear by the whisky enthusiasts. There are major expansion plans so this is certainly a distillery going places. Any casks that do become available are not going to be cheap compared to some distilleries but having a couple of blue riband malts in your portfolio is never a bad idea.
'And Finally', the Aberlour Abunadh expression came about because about 20 years ago they were refurbishing the distillery and the workmen found a time capsule hidden in the wall which dated back to the late 1800s. Nobody knew it was there and in the capsule was a bottle of Victorian whisky. Therefore they decided to recreate this whisky exactly how the Victorians would have made it. Firstly there were no age statements back then, the whisky would of course be cask strength and obviously not chill-filtered. It would have been made in small batches of different casks and no single batch would be the same. Lastly at that time, all the best whisky would've been aged in Sherry Casks. Subsequently, Aberlour Abunadh was born and today has a huge cult following.
Fact File
Name: Aberlour 
Founded: 1879 
Region: Speyside 
Owners: Pernod Ricard 
Capacity: 3.8m litres 
Stills: 4 
Fermentation: 48 hours. 
Peated/Unpeated: Unpeated 
Casks Used: Mainly Oloroso sherry casks with a limited amount of bourbon 
Current Sales: 325,000 9l cases. 
Recent significant awards: 2021 Double Gold for Aberlour A'bunadh at the IWSC including best in class. 99pts out of 100! 
Independent bottlings: Around 1100  Core Range: 12, 16, 18, Casg Annahh, Aberlour A'bunadh 
Find out about how to buy a barrel of whisky or sell a whisky cask and general whisky investment.