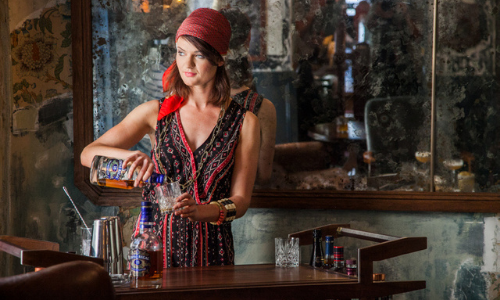 For some time now women have been shaping the whisky industry, helping to mould it into the multimillion-pound powerhouse we see today. With that being said, we thought it would be important to highlight the women impacting some of the world's biggest spirits brands. In the first edition of our Women in Whisky series we spoke to Rachel Macdonald, who is the driving force behind the International Graduate Programme at Chivas Brothers, Pernod Ricard.
Where are you originally from? I'm from Contin in the Highlands of Scotland.
What is your current role/ title/ company you work for? International Graduate Programme Manager at Chivas Brothers, Pernod Ricard.
How many years in the industry? How did you get started? I've been in the industry since I was 18, so 11 years now. I started as a tour guide at the Singleton of Glen Ord Distillery a few miles from where I grew up. I started with Chivas Brothers on the Graduate Programme as a brand ambassador in London and then moved to Sydney, Australia to work for the company out there. After coming back to London and spending two and a half years working for Isle of Harris Distillery based in the Western Isles, I am now back to Chivas Brothers. I am managing the same graduate programme that really set me off on a career in the industry. We have around 40 young brand ambassadors representing Scotch whisky in 30 countries in every corner of the world.
Do you have any female mentors that helped you on the way? Although she doesn't work in the industry my mum grew up at whisky distilleries in Speyside and Islay. You see, my grandfather was a distiller. She was incredibly encouraging of my own little whisky journey and helping me tell a Hogshead from a Lyne Arm.
Also, my first boss Heather at Glen Ord distillery was so passionate about the industry. In fact, most of my team was and they were mostly female… And we all adored whisky! Looking back this definitely helped mould my own attitude as I knew no different. Most of the whisky drinkers I knew were women. To me, that fostered a bit of a blasé (perhaps naïve) attitude toward traditional whisky drinker stereotypes. Because in my experience they were nonsense.
Have you noticed more women drinking whisky in general (maybe amongst your friends for example)? Yes, I think more and more women are happy to order it at a bar.
What is your desert island dram? If I'm on a desert island I'd want something fruity, zesty and tropical to befit my setting. So maybe I'll go for The Glenlivet Caribbean Cask which is selectively finished in ex- rum casks. This gives that classic Glenlivet Speyside fruitiness a tropical twist.
What is your favourite whisky under £40 per bottle? Aberlour 10-Year-Old. One of the first whiskies I drunk and one of my absolute favourites.
What is your favourite 'money's-no-object' whisky? I don't think high cost always equates to high quality, but I had one of the best whiskies I'd had last year which was a rarity. It was a Cardhu "Managers Dram" -a refill cask, 15 Years Old and Cask Strength. Of course, it was made even more special by the fact it was my grandfather who was the manager at the time and filled it in 1989!
Do you gravitate towards whiskies aged in certain casks? By in large ex-bourbon, first and refill casks, I tend to like lighter, sweeter whiskies. That said, as a result of the recent expansion of casks permitted to mature whisky the innovation in that space has been really exciting – we have Chivas matured in Tequila casks now…my two favourite spirits colliding!
Looking into your crystal ball where do you see Scotch whisky in 5/10 years? I think that innovation will continue to ramp up, and we will see many new whiskies fail and many take off. Scotch has to compete with bourbon and Irish whiskey who are finding favour with younger consumers. This will be about making Scotch whisky accessible and less stuffy, while still maintaining the quality credentials that permitted Scotch whisky the global fame it enjoys.
Any advice for women wanting to start out and forge a career in Scotch whisky? Don't stand for any nonsense. When men ask, "do you actually even like whisky?", politely say "Yes, do you?" sounds a simple tip but it works!
At Cask Trade our female Masters all certainly know their way around a whisky cask. If you want to find out more about adding whisky to your investment portfolio, get in touch and let's talk whisky!