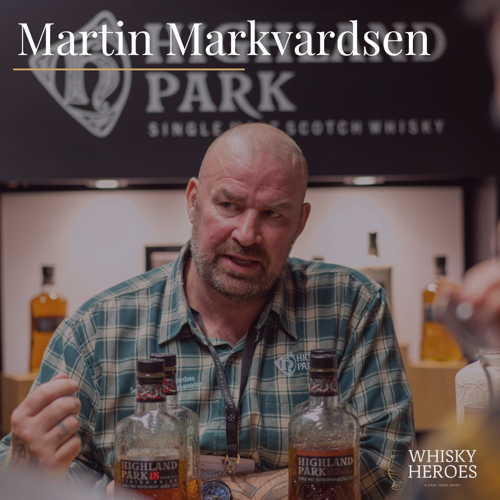 "One of my true heroes is Marie Gulliver the distillery manager at Highland Park. The things I've learned from her are truly amazing, she is so inspiring." Martin Markvardsen talks women in whisky, Keepers of the Quaich and Vikings...
Originally from Denmark Martin Markvardsen (55) is the Senior Global Brand Ambassador for Highland Park, responsible for the global market.
Martin joined Highland Park in 2006 but has worked in the industry for almost 33 years. His interest in whisky started during a trip to Scotland when he immediately fell for the golden nectar and there was no way back for him. Martin needed to know everything possible about Scotch whisky and since then he has worked in all parts of production and warehousing. Martin has visited every distillery in Scotland and worked on some of them as well. Previously, he was the whisky manager at the world-famous Craigellachie Hotel Quaich Bar which lists more than 780 different single malts.
Among his achievements Martin is also a Keeper of the Quaich (2009), was named Best Nordic Ambassador in 2013, was a winner of Icon of Whisky Global (2018 and 2022) and was made a Master of the Quaich in 2021.
Martin's role involves spending half of his time travelling, training, educating and tasting for bars, restaurants, whisky clubs and participating in fairs. Everyone from beginners to experts come to listen when Martin speaks about Highland Park. He has been called: "A true ambassador to the amber liquid as he doesn't drink anything made of grapes."
Martin is also deeply involved in the whisky-making process of Highland Park and the selection of casks for the different editions, including most recently the London launch of the 54yo.
Can you remember your first dram? My very first dram was a Ballentine 40 years ago, but my very first single malt was a Glenkinchie 34 years ago…it was an incredible moment.
What attracted you to the industry? The thing that attracted me first, was the stories, the passion people in the industry had (and still have), and the entire magic that whisky had. Later I fell in love with the whisky itself, the diversity in flavours, even from the same distillery due to casks, age etc. Curiosity was my drive as well, I wanted to know everything. There was always something new to learn.
Can you share some memorable moments of your career or with whisky? There are a lot of great moments. 2014 was when we crossed the North Sea in a sailboat. Heading out from Gothenburg, we wanted to do the same trip as the Vikings did 1000 years earlier, across the North sea to reach Kirkwall in Orkney. It was also for the launch of a new product from Highland Park, however, we experienced the worse weather in the North Sea for 12 years. We lost our emergency equipment as it fell overboard, the helicopters from the Norwegian Coastguard were out looking for us.
After four days on heavy seas, we finally made it to Orkney, followed by dolphins that were jumping on the side of our boat. A rainbow formed a "gate" for us and the people from Kirkwall went out on boats to welcome us. It was a scary crossing and at the same time a very memorable experience. The only thing that was not funny is we had to return to Gothenburg on the same route across the North Sea, but it was a bit calmer and with tailwind it was not too bad.
Other memorable moments were in 2009 and 2021 when I became Keeper of the Quaich and Later Master of the Quaich. Also, some of the great people I have met, Like Michael Jackson, Charles MacLean, Dave Broom, Nick Morgan, Jim McEwan, but most of all Jason Craig our late Brand Director, who was my mentor.
What advice would you give to someone who is new to whisky? Go for it and remember that you will never be fully educated. There are always new things to learn. You need passion, patience and people. Without passion, this is not a business for you, and you need patience as things take time. But most of all you need the people, the people that have the knowledge, patience and passion to teach you. Most of all, enjoy whisky responsibly!
How much should someone spend on a bottle of whisky? That's a good question, today I will never spend more than £200-£250 for a bottle of whisky but most of the time never more than £80-£100. I find a lot of great whisky in that price area, and cheaper as well. I'm not a collector but have respect for those who collect whisky and spend a lot of money on a special bottle, especially if they open it one day for a special occasion.
If you could only drink one whisky for the rest of your life which one would it be? Tough question, but I have to say Highland Park 18-year-old, it never disappoints me. I think the complexity and balance are so unique. I love the sweetness and the fruity notes. There's a nutty note that I love, and a hint of marzipan. Love it.
Who do you consider to be a whisky hero? There are so many today, I mentioned Jason Craig earlier, but people like Ingvar Ronde that writes the Malt Whisky Yearbook is a good example. As a whisky entrepreneur icon, I would say Billy Walker. People that I have looked up to in my career are people like Gordon Motion, Max McFarlane, John Ramsay, Ken Grier, Jim Beverage and Bill Lumsden - they are all icons. For me, the real heroes are the people making the whisky, at the distillery but also in the blending room. One of my true heroes is Marie Gulliver the distillery manager at Highland Park. The things I've learned from her are truly amazing, she is so inspiring. So many people in this industry are iconic, it's so hard to mention only one.
What is your favourite whisky bar in the UK and globally? In Glasgow - Bon Accord, Pot Still and Pipers Whisky Bar. In Edinburgh it will be Devil's Advocate; in Orkney it has to be The Kirkwall Hotel and the Royal at Orkney Hotel. In Singapore, the Auld Alliance.
Desert Island dram? Highland Park Bicentenary or if I can go high, and I mean HIGH, Highland Park 50yo 😉
What do you enjoy drinking when you aren't having a whisky? Well, you will be surprised. I really enjoy skimmed milk! I'm not into drinking wine, I can occasionally have a cold beer. Recently I discovered whisky cocktails and really enjoy them.
Where do you see Scotch whisky in five years? More distilleries, some new ones that unfortunately won't survive. Some "back to the future" distilleries, meaning lots of innovation in using old styles of yeast, barley etc. Whisky dinners, more whisky clubs, less, but bigger, whisky fairs.
What are the future challenges for the whisky industry? Pricing for consumers, but also the number of casks, can that still be delivered in the quality we need, barley, peat etc.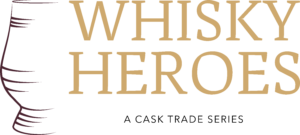 Interested in cask whisky investment? For more news from the Cask Whisky Masters, sign up to our newsletter by ticking the box at the bottom of the registration form.  Follow us on Instagram, Facebook, Twitter, LinkedIn and YouTube.