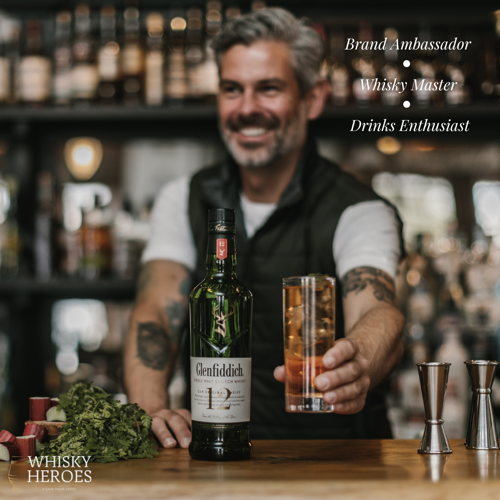 The latest in our Whisky Heroes series is on Mark Thomson, the Glenfiddich Ambassador to Scotland. He's worked in the industry for over 15 years now and has held his current position with Glenfiddich for eight years, initially as the UK Ambassador.
His role is very varied, but essentially, he is the face of the brand in Scotland. He hosts consumer and trade events, trains hospitality teams in all things Glenfiddich, press interviews, and product launches – no two days are the same!
Can you remember your first dram?
Well now, my very first dram was something I don't actually remember, but it is a moment I recall with much fondness. I was about eight years old, and my grandfather who always drank Glenfiddich was at our house - it may have been Christmas or at least some family gathering, as he'd normally only drink whisky on these occasions. It was a heavily embossed bottle of Glenfiddich in the 1970s and "over 8 years old" – I don't remember the taste, I just remember pinching a sip out of his glass when he wasn't looking.
It always seemed special - perhaps the fancy gold label, perhaps just because my grandfather drank it – so I know it had to be special. He passed away at 106 years of age - still very much the man I knew, and I even managed to sit with him before he died and properly share a Glenfiddich as the ambassador. I listened with great fascination as he told me about his early days drinking whiskies, in 1924!
What attracted you to the industry?
I'd always been in hospitality - firstly bars, then later hotels and restaurants in London. It was the wine industry that I loved first, and still do have a passion for wine, but whisky (and other spirits) really grabbed my attention. I think it's the history, the people, the many different sides of whisky and of course, being Scottish, it seems to just fit well for me.
Can you share some memorable moments of your career or with whisky?
Oh, I've had loads, each just as special as the last, and have found myself in so many incredible venues, situations and environments that I've really had to pinch myself. Being inducted as a Keeper of the Quaich in 2019 was rather special.
However, one I don't think I'll ever forget was standing on stage in front of 1650 bartenders at The Glenfiddich Festival Experiment in Dufftown, which was a concept event I helped bring to life. It wasn't just the size of the crowd, but the fact that 90% of them were from Scotland and I knew almost all of them – brought together for a few days of music, entertainment and of course, whisky. What an incredibly proud and at the same time nerve-wracking moment for me.
What advice would you give to someone who is new to whisky?
Don't listen to people when they try to give you advice. Perhaps let me clarify that; whisky, due to category changes in the 60's suddenly surrounded itself with rules, regulations, the "don't do this but do this brigade" who knew little, but shared their wisdom freely. Enjoy the whisky, find a tasting maybe, visit a whisky show (there are plenty now) and find your own way forward.
How much should someone spend on a bottle of whisky?
Hmm, that's a tough question to answer. Everyone has a different budget based on their experience. I've often said to bartenders that if a guest asks for a recommendation of whisky and they are fairly new to the category – ask them first how much they want to spend. Quite often, the default is to immediately reach for a 10 or 12-year-old example, almost as a safety net in case they don't like it and therefore, they've not spent much. However, I do believe that if you handed even a novice whisky drinker an 18 or 21-year-old whisky, it would be a very different experience.
So, spend as much as you want to – there will be a cut-off point where the whisky isn't valued due to its flavour, more its rarity – and then that becomes a completely different budget conversation.
If you could only drink one whisky for the rest of your life which one would it be?
Wow, I mean, do you have any easy questions for me? Old Pulteney 17 perhaps. It reminds me of my grandmother whom I spent a lot of time growing up. She was born in Wick (where Pulteney is made) and always seemed to be in the kitchen preparing fish or baking, which left a really distinct (and delightful) aroma to her hands – think coastal seaside and butter – which is what I detect in that particular whisky. So, when I want a little cuddle from my gran (who passed away 20 years ago) I can pour a glass of that and memories come flooding back.
My favourite whiskies are those with memories embedded in them- and as I myself grew up on the coast they often are a more fresh, coastal style I would choose.
Who do you consider to be a whisky hero?
Ronnie Cox of Berry Bros. & Rudd, Charlie Maclean, and Dave Broom are three of my most treasured whisky friends and I've always looked to them for inspiration. However, the modern world of whisky is changing fast and now I see individuals like Becky Paskin, Tristan Stephenson, Angus MacRaild and Jill Boyd all with their own individual approaches to whisky – perhaps being the future icons.
What is your favourite whisky bar in the UK and globally?
Well, there are a number of factors here for me, I love a traditional pub such as The Pot Still or The Bon Accord in Glasgow and the Athletic Arms in Edinburgh for example. Old-school boozers with over 400 malts and great beer. No frills (unless you see pies as a frill?) but incredible knowledge, range and perfect hospitality. But I don't just drink my whisky neat, so if it's a cocktail I'm in the mood for, then I'll head to Nauticus or Devil's Advocate in Edinburgh, Black Rock or Milroy's in London. L & B in Amsterdam is a treasure trove, as is Le Point Rouge in Bordeaux.
Desert Island dram?
Pulteney 17 or Glenfiddich Grand Cru 23-year-old.
What do you enjoy drinking when you aren't having a whisky?
Beer, wine, tequila, cognac, gin, and mescal I'm always interested in and will often seek out something new from each of those categories. But if I'm getting bored of whisky, I'll make a cocktail with some and play around with the flavours.
Who is making the most innovative whiskies?
Glenfiddich has always been regarded as category-leading – we started the single malt category back in the 60's being the first distillery to actively market a single malt whisky. Being family-owned still, we have the scale and flexibility to experiment with different processes, cask types, maturation and the like. But not all experiments work and create something that's identifiable as Glenfiddich – so they remain just that, a warehouse experiment. We only tend to release the whiskies we believe stand true to our heritage and house style – sometimes with a tweak and twist here and there.