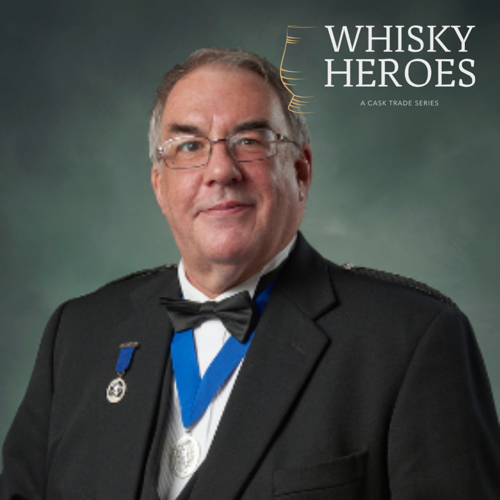 Welcome to the fifth instalment of our Whisky Heroes series. Gavin D Smith is based in the Scottish Borders and has been a professional freelance writer for over 25 years. Recognised as one of the world's leading whisky writers, he acts as Contributing Editor Scotland for Whisky Magazine. He regularly undertakes writing commissions for leading drinks companies and produces feature material for a wide range of publications, including Whisky Magazine, Allt om Whisky (Sweden), Whisky Magazine & Fine Spirits – France, Whisky Etc (Netherlands), Whisky Advocate, Whiskeria, Unfiltered, Taste Magazine Scotland and The Keeper.
He is the author and co-author of some 30 books, relating to whisky, beer, history and literature, including Worts Worms and Washbacks, An A-Z of Whisky, Whisky Wit & Wisdom, The Whisky Men and Goodness Nose - written with Richard Paterson. Upcoming publications include The Micro-distillers' Handbook (3rd edition) and the 8th edition of Michael Jackson's Malt Whisky Companion, which he fully updated, revised and co-edited. 
Can you remember your first dram? It was Claymore blended Scotch, a very popular budget brand in the 1970s, and my father's regular dram. He wouldn't thank you for a single malt. I was 15 years old and he didn't know I sampled it. Or, perhaps he did…
What attracted you to the industry? An interest in Scottish history, literature and heritage led me to become intrigued by the notion of single malts originating in specific locations. I liked the fact that if you went into a hotel bar in the Perthshire town of Pitlochry, for example, you would find a bottle of the local whisky – Blair Athol. This was in the late 1970s, before malts really took off widely.
After university, I was selling plastic sheep and Beatrix Potter books to tourists in the Lake District, while writing in my spare time. I got a publisher's offer to write a book on whisky (Whisky: A Book of Words) in 1993, and it all stemmed from there.
Can you share some memorable moments of your career or with whisky? Collaborating with Richard Paterson on the book Goodness Nose (my title, by the way!) was a particular pleasure. I learnt a great deal, got to drink some magnificent whiskies and developed a serious Cuban cigar habit.
But any time I'm lucky enough to visit a distillery is memorable, as is meeting the people who make the spirit, who blend it, and who promote it. The whisky industry is full of some of the nicest and most decent people I've ever met. Being invested as a Master of the Quaich at Blair Castle earlier this year was a great honour, and pretty memorable, too.
What advice would you give to someone who is new to whisky? Try everything for yourself, keep asking questions, and trust your own judgement. Don't believe everything you read (unless I've written it, of course).
How much should someone spend on a bottle of whisky? As much as they feel comfortable with. Wealth is relative, so as much as they feel a bottle is worth.
If you could only drink one whisky for the rest of your life which one would it be? Old Pulteney 18-year-old.
Who do you consider to be a whisky icon? I can think of 20 live ones, but I'm not going to name any for fear of offending the others! Perhaps, the unsung characters down the years who have just got on with making great whisky. Historically, Tommy Dewar and 'distillery architect' Charles Doig, but there are so many others.
What is your favourite whisky bar in the UK and globally? The Highlander in Craigellachie, Speyside. A fantastic whisky bar that manages to be a friendly pub at the same time. Globally, I'm only going as far as Ireland and Dick Mack's in Dingle, County Kerry. Every Irish whiskey you could wish for and beer brewed on the premises.
Desert Island dram? Littlemill Testament 1976. Yes, that surprised me, too.
What do you enjoy drinking when you aren't having a whisky? Good beer, gin and tonic, red wine and the occasional Cognac.