Introducing The Cask Trade Trilogy
We are delighted to introduce you to The Cask Trade Trilogy, a limited edition trio of casks available in three unique expressions. (Limited to 1 per customer). Using new make spirit distilled at the award-winning Speyside Distillery in Kingussie, Scotland, we will create three distinct whisky expressions– Bourbon, Sherry and Port Matured.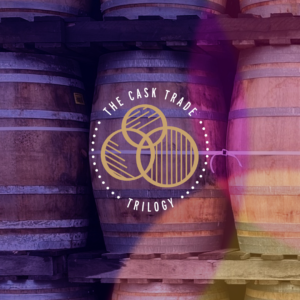 The Journey Begins
From the moment this classic Speyside spirit is filled into cask it starts to develop and take on the flavours ingrained in the wood. After three years the whisky will begin to evolve and gain the milestone of single malt status when you will be invited to take your first taste. From here you can choose to bottle it after five years or continue on the maturation journey.
A passionate purchase
The creation of this Trilogy is a first for Cask Trade and a truly exceptional opportunity for whisky enthusiasts and investors alike. Like you, we are fanatical about whisky and believe the marrying of the liquid with the wood to create three different flavour profiles will be an extraordinary experience.
For the love of whisky
We have priced the casks keenly with passionate whisky enthusiasts in mind, offering you a fulfilling experience at an affordable price and one we believe is a good investment. The total Trilogy price is £5,000. We have included 5 years free storage and insurance for your convenience.
Trilogy Cask 1   
First-fill Bourbon Barrel
130 casks (100 Trilogy Sets)
£1,350
Available now
Bourbon barrels are perfectly suited to maturing Scotch whisky. The bourbon they previously held softens the oak, ensuring a smooth and subtle whisky. These barrels have been made exclusively from American oak, giving the whisky a honeyed and vanilla characteristic.
Trilogy Cask 2 
Second-fill Sherry Hogshead
100 casks (100 Trilogy Sets)
£1,750
Available now
The lingering flavours of the sherry are still present in the wood and these are shared with the maturing whisky. The profile is typically deep and sweet, fruity and nutty giving the whisky a distinctive colour and strong, rich flavour.
Trilogy Cask 3
Port Wine Barriques
100 casks (100 Trilogy Sets)
£1,900
Available June 2021
The port barriques impart the vibrant fruit-filled flavour profile of the fortified wine giving the whisky a subtle ruby hue, often resulting in a richness and sweetness.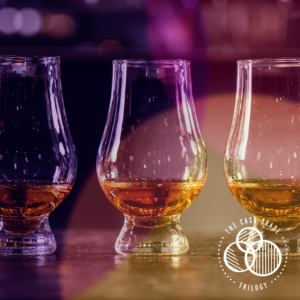 Join us on this journey
This limited-edition, unique trilogy allows for each customer to purchase one cask of each expression. Rest assured, we will travel on this journey with you arranging samples at the different stages of maturation to provide your unique tasting experience. If you're interested and want to find out more,
get in touch today
.
Small print/terms and conditions
Purchase of The Cask Trade Trilogy is limited to one per customer.
Insurance and storage is included in the price for the first five years of ownership, beyond which it is chargeable. No refund for storage and insurance will be given if the cask is sold before five years.
In respect of Selling on, bottling, labels & packaging the following condition applies: 
If the New Make spirit has been matured: 
For less than 15 years from the filled date the label & packaging can state: "distilled at Speyside Distillery" and "Speyside Distillery" WITH written approval from Cask Trade
For 15 years or more from the filled date the label & packaging can state: "distilled at Speyside Distillery" and "Speyside Distillery" WITHOUT written approval from Cask Trade
In both cases the label & packaging need to comply with the Scotch Whisky Regulations and any relevant guidance issued by the Scotch Whisky Association. 
If any of the casks are sold on by you the bottling, labelling, and packaging Terms & Conditions will need to be passed onto the purchaser. 
Casks cannot be traded or moved for the first three years from the filing date. 
Samples can be requested for an additional charge.
Estimates of storage prices and insurance post five years can be provided.