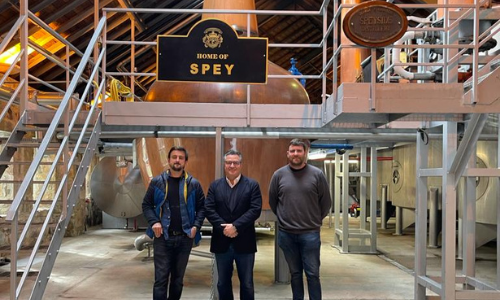 Yesterday Phil Huckle, our newly-appointed intrepid reporter finally managed to sit down for a few minutes with MD Simon Aron. They discussed his recent trip to Scotland with fellow director Lee Tomlinson.
Phil: Simon thanks for finding the time to finally sit down and discuss your trip. Simon: You're very welcome.
Phil: Right first question. How was Scotland? You were away for a week
Simon: Of course, the trip was incredibly enjoyable. We went for three very important reasons. First, to visit our partners and suppliers who pre pandemic we were visiting nearly every month or two. Unfortunately, we had not been able to see them since September /October last year. I cannot emphasise enough how good relations with these people are so fundamental to our continued success. I might send you one day…!
Phil: I thought I was going to visit our rum suppliers in the Caribbean as that is such an expanding part of our business?
Simon: Me too! Secondly, we went to see three organisations which are building warehouses. There is a real shortage in Scotland right now.
Phil: I didn't know that.
Simon: Yes, and they are not easy to build as well as there are a lot of planning regulations, health and safety rules and of course the involvement with HMRC. 
Phil: And thirdly?
Simon: We also went to view some bottling plants. We want to help our customers with a faster more seamless bottling process. Customer service in terms of what we offer, and the efficiency of our processes is at the heart of everything we do.  
Phil: So where did you visit in Speyside?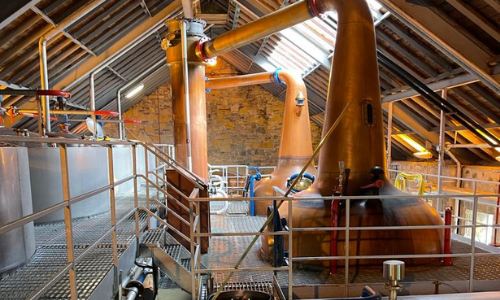 Simon: It was fantastic to visit the Speyside distillery who provide the Trilogy Series for us. They have a wonderful operation producing very high-quality liquid. Of course, it was also lovely to meet all the staff there. It was interesting to find out that their fermentation time is 120 hrs which is very long compared to the average of many other distilleries. This we think leads to the quick maturation in the cask. The whisky tastes amazing even at just three years old.  The backdrop of the distillery was the snow-capped Cairngorm mountains - just stunning! For reference The Cask Trade Trilogy series provides the opportunity for our customers to invest in three casks of new make spirit. They are aged in a first fill bourbon, refill sherry hogshead and a port barrique. They are selling out so fast!
Phil: Anywhere else of interest?
Simon: We also managed to spend some time in the famous whisky towns of Elgin, Craigellachie & Rothes. Plus, a trip to see our good friend Matteo at the Speyside Whisky Shop in Aberlour. This is one of the finest whisky shops in Scotland. I always buy a few bottles there and on the trip in general! I managed to pick up a 30yr Highland Park amongst many other great bottlings.
Phil: Any highlights on the trip?
Simon: It would have to be staying at the cottage right next to the still room at the Speyside distillery. We had the River Tromie running close by and in the morning, you can hear the river plus the distillery in operation. With that the wonderful smell of the malted barley combined with the fresh fragrant mountain valley air. Truly incredible!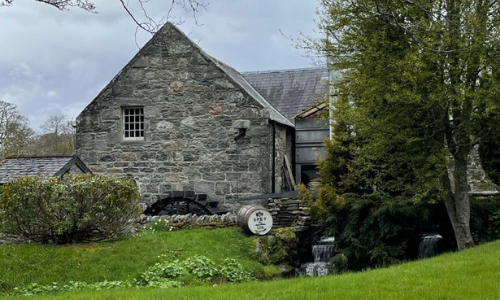 Phil: Bit different to Regent St then?
Simon: Quite. Oh, I should also mention we had a great meal at the Macdonald Resort in Aviemore. Plus, the oysters at the White Horse in Edinburgh were also impressive and I can highly recommend Café Andaluz in Edinburgh.
Phil: Agreed that place is very impressive. Ok last question. How was Glasgow & Edinburgh plus anything else you'd like to mention?
Simon: We went to see our friends at Cadenhead & Royal Mile Whiskies. Managed to buy a very interesting Kilchoman finished in Mezcal casks.
Phil: That's very interesting and quite unusual but makes sense as Mezcal can be quite smoky.
Simon: I bought some brilliant artwork for the Regents St tasting room. It is a distillery map in a cartoon version of the Tower of Babel. Even a philistine like you Phil might appreciate it.
Phil: We'll see…
Simon: Overall a great trip! Really positive for the business. I'll also point out that most of Speyside and Glasgow was under level three restrictions so restaurants couldn't sell alcohol or serve food after 8pm! So, no jolly. It is in fact always a pleasure to be in Scotland and I've really missed seeing everyone. Hopefully we'll be travelling up there a lot more in the near future.
Phil: Thanks Simon that was great.
Simon: I think we should open up that Kilchoman Mezcal finish… don't you?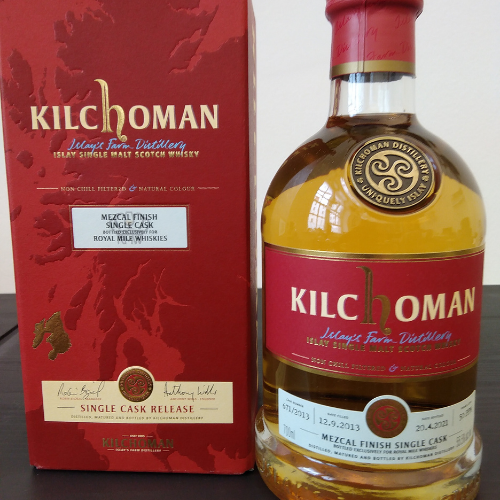 About the Cask Trade Trilogy: A limited-edition trio of casks, (only £5,000 for the set) available in three unique expressions – Bourbon, Sherry and Port Matured. The creation of this Trilogy is a first for Cask Trade and a truly exceptional opportunity for whisky enthusiasts and investors alike. Using new make spirit distilled at the award-winning Speyside Distillery in Kingussie, Scotland, each customer will be able to purchase just one cask of each expression. We will travel on this journey with you, arranging samples at the different stages of maturation to provide you with a unique tasting experience. So don't miss this opportunity to play your part in something truly exceptional.
To find out more, get in touch today.