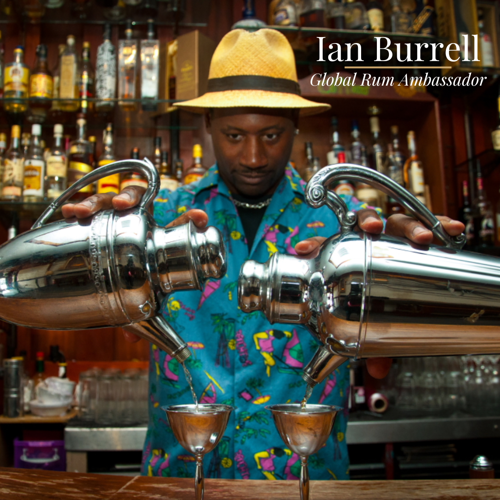 With no less than 30 years in the business, Ian Burrell is the world's only recognised Global Rum Ambassador and his impressive CV includes being the founder of RumFest and London Rum Week.
As the award-winning "EduTainer", Ian has redefined the definition of an international spirits ambassador. He has conducted masterclasses and seminars, sipped cocktails and judged competitions on no less than 7 continents around the world.
In 2014 he even took the time to break the Guinness World Record for the largest organised rum tasting and masterclass. Ian has numerous awards and titles under his belt and in 2020 he was voted 10th most influential person in the world drinks industry by Drinks International.
Ian's passion for rum and cocktails is infectious.
Can you remember your first Rum?
"My heritage is Jamaican, and rum has been part of my family since I could crawl. Rum is so much more than just a spirit, it's a way of life. I don't remember my first taste as it was put on my lips as a baby to help me sleep – rum was always in our house.
However, I remember the first time I made a rum drink with sugar, water, and lime, which was a bit like lemonade. I added a touch of rum because there were miniature bottles of rum in the drink's cabinet at home – I didn't realise I was making a punch.
After I took a break from school, I got a job working in a bar and I noticed all the cocktails I was making made people smile as they tasted so good. Making people happy was one of the things that attracted me to the industry."
Rum cocktails or sipping rum?
"I believe in rum experiences and if your experience is you want to drink rum, that's fine. I'm in both camps as I'm into pure spirits and spirits can be mixed and enjoyed in a cocktail."
Dark or white?
"Unaged, aged, heavy, light rum – I don't refer to rum as dark and white. Jamaican white rum is completely different from Peurto Rican rum, for example. Jamaican white rum by law doesn't have to be aged and the stereotypical Jamaican white rum has lots of big flavours coming from the fermentation process and pot still. The Puerto Rican white rum is lighter in style but must age for a minimum of one year they don't want it to colour, so it is filtered through charcoal to bring it back to water white."
How did you become the world's only recognised Global Rum Ambassador?
"I was made, because of my heritage, the first rum ambassador in the UK by Wray & Nephew (overproof Jamaican rum). That led to me becoming a category ambassador as I wanted to learn about different styles and pass that on to other people.
In 2003, after helping to launch Appleton in New Zealand and Australia, I wanted to be a global ambassador - to travel the world and teach people about rum.
It was challenging. The understanding of rum was still not there but I love a challenge and seeing people's eyes light up when they learn something new about rum.
Since then, consumer awareness of rum changed massively. Rum is one of the fastest-growing categories in the UK because of the increased knowledge, understanding and great quality of the product. People are travelling more these days and tasting rum in its own habitat and enjoying it.
Rum has still got a long way to go but people say rum is the last spirit to be preimmunised and they are already willing to pay £60/£70 per bottle for a good quality rum."
Spiced and flavoured rums, to Coke or not to Coke?
"I used to think spiced and flavoured rums were a stepping stone into the category but speaking to people who have been drinking rum for years they are still drinking spiced and flavoured rum. But what they are doing is upgrading to better quality, spiced, and flavoured and this category is growing rapidly.
People say rum is the new gin, but not rum as an entire category this is just spiced rum and I see a lot of good and bad spiced rums. It can be detrimental in some ways as some people believe it's rum, as opposed to a rum that has been spiced
The better quality the rum, the better-quality rum and Coke – it's all about having a great rum experience."
Water and ice?
"Ice takes some of the heat out of a rum and dilutes the drink. Whether I add ice depends on the rum I'm drinking, where I'm drinking and the time of day. I only add water to rum if it's cask strength and wants to open some of the complex aromas."
Cask Strength Rum
"Some of the best rums in the world now are coming straight from the cask. Velier rums and Foursquare from Barbados are doing well.
It's also attracting people who drink cask-strength whisky at 59-62 per cent ABV. With cask strength, you get all the flavour of what rum is from the years of maturation in the cask and the expressions from different types of barrels bring more flavour.
You get the same bang for your buck from a good bottle of rum versus whisky."
Can you share some memorable moments of your career?
"I have been in rum all my life but from a professional standpoint, I have worked in the rum business for 30 years now.
Taking rum to the Antarctic was an incredible experience; you can't be a global rum ambassador if you don't do all 7 continents. In 2013 I did all 7 continents. I just wanted to do something different and so I made rum drinks and cocktails in the Antarctic with some of the clearest and purest ice straight from the water. I am hoping to go back next year."
What advice would you give to someone who is new to Rum?
"The first thing to say is there is no one rum that defines the rum category, you have to try a few to find out which rum is for you.
Rum is not only a spirit it is also a way of life. Various companies impart their culture into these rums, it's a cultural spirit. Like tequila is the spirit of Mexico and scotch is the spirit of Scotland. They are all cultural spirits."
How much should someone spend on a bottle of Rum?
"That's the million-dollar question, how long is a piece of string? Every rum is affordable, but it depends on your budget. Make sure you find a rum you enjoy, that's the important thing. There is no such thing as a bad rum, just bad rum experiences."
If you could only drink one Rum for the rest of your life which one, would it be?
"It would have to be the first rum I ever drank - Wray & Nephew Jamaican overproof rum. Other than that, it would be the one in my glass, the next one and the free one."
What do you enjoy drinking when you aren't having a Rum?
"I like fizzy grape juice from France, and I have learned to appreciate whisky through rum drinking. I like Irish whiskey and some Speyside whisky from Scotland."
Where do you see Rum in 5 years?
'I think it is going where people find it quite easy to part with £50+ for a bottle of good rum and where the understanding of premium rums isn't an oxymoron.
Rum's Geographical Indications (GI) like Barbados Rum, Jamaica Rum and Demerara Rum from Guyana are respected in the same way as Cognac is from France, Mescal and Tequila from Mexico and Scotch from Scotland. This will influence buying purchases and the enjoyment of rum."
Final thought
"If you drink spirits, there is a rum out there for everybody."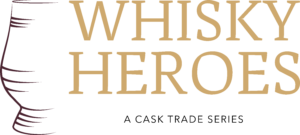 Interested to buy a barrel of rum? For more news from the Masters, sign up to our newsletter by ticking the box at the bottom of the registration form.  Follow us on Instagram, TikTok, Facebook, Twitter, LinkedIn and YouTube.
https://www.instagram.com/therumambassador/