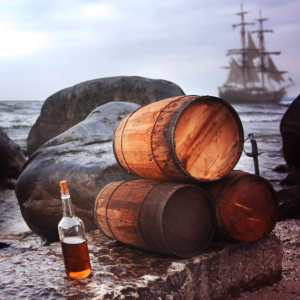 Rum What is rum? Is it white, or clear, and the essential ingredient to a much-loved Mojito and Daiquiri cocktails? Is it spiced and perfect when paired with a mixer like ginger beer or coke? Or, is rum dark and best enjoyed neat? Rum is all of these things. Its versatility is one of the reasons for huge market growth which is forecast to continue over the next five years and beyond.
Welcome to the rum revolution
Rewind 40 years or so to when the first whiskies were being put into single casks aged in different wood.
Rum is now being matured in much the same way as whisky and it's all about the wood. Sherry butts, wine barrels and Sauternes casks are all being used to age rum. These are to be sold in individually numbered, limited edition bottles.
However, the exciting thing about rum is there is a much wider variety available from around the world. as opposed to the fantastic but small regions of Scotland. This means more choice, more flavours and much more variety; albeit cask rum is only available to buy in small quantities.
Rum is following in the footsteps of cask-strength whisky. we believe this will be an exciting journey for connoisseurs, enthusiasts and the rum-curious.
Rums roots Rum is the oldest distilled spirit. It was first made in the Caribbean and South America, before New England, and now it's being made and enjoyed worldwide. Craft rum is increasingly becoming a firm favourite of whisky and spirit connoisseurs. Distillers continue to drive experimentation in the category and propel premiumisation. Independent bottlers are seeing a demand for aged rum. Consumers are getting a thirst for an exciting and extensive range of flavours and ages from around the world.
The next big thing
For more than a decade, rum has been seen by many experts as the spirit that hasn't quite broken through. However, in the last couple of years this seems to have changed. As with whisky it takes a little time for its popularity to expand from the experts to the new cognoscenti. then in turn from them to the general public. For proof of this, one just has to look at the expansion of rum on our shop shelves.
The audience is already becoming established as more and more limited edition bottles come to market, regular rum tastings are being hosted and even auctions are taking place.
When Cask Trade started in 2018 cask rum didn't feature on the stock list. but now it's an important part of the portfolio because of the demand.
Investment-grade With the ascendance of Scotch whisky well and truly established the question is, what's next? It's perhaps not a matter of what's next, but rather what is going to join Scotch at the top table. With gin being a white spirit, although it is popular, there is no asset to invest in and, by nature, gin can be produced quickly and easily. There is no waiting time, and it is this waiting time that gives the opportunity for an investment. There has been an even greater expansion in the specialist retailers. Small batch rums are frequently seen and single cask, cask strength offerings sell out very quickly in a manner very reminiscent of whisky. The difference at the moment is that there are fewer well-known rum distilleries than there are global whisky distilleries by quite some way. As the demand rises, production is going to take some time to catch up. Added to this there are, as with whisky, closed distilleries like Caroni, and cult distilleries like Hampden. The bottle auction prices of these rums have increased dramatically over the last couple of years. And so the investment opportunities become obvious. It's not a matter of the possibility of rum being the next big thing, simply a matter of where on the curve will you get in? Welcome to the rum revolution!
So far this year, Cask Trade has invested more than £500,000 in single cask rum following a demand from independent bottlers as consumers get a taste for it.
Managing Director of Cask Trade, Simon Aron, is confident cask-strength rum will have investment value in time but, as yet, this is untested.
"If rum was to follow the same path as whisky as it gets older and rarer it should appreciate in value. It's difficult to know if this will happen in the same way as we are really at the beginning of the market. I am confident it will appreciate with age, we just don't know at what rate. It was the same as with whisky about 40 years ago," says Simon, who explains Cask Trade has bought rum casks from 15 different countries. These include those in South America, Central America, the Caribbean and the Indian Ocean.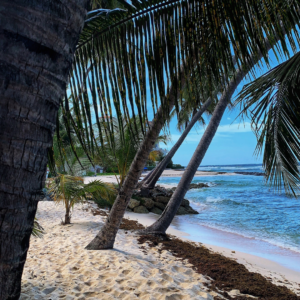 Top tip Barbados is the birthplace of rum, and it's also where you'll find the world's finest distillery, Foursquare. This artisanal, family-run distillery produces legendary rum with a dry, rich, spice-forward style that is simply extraordinary. Their beautiful rum is naturally more aligned with cask strength styles, so it could be an obvious investment choice. Among the fine rum casks available on the current stock list, the 2007 barrel of Foursquare Barbados Rum stands out. Like with everything sold by Cask Trade, all rum casks are re-gauged and tasted by our spirits masters. The rum casks purchased have traceable provenance and are stored in bonded warehouses in the UK and will finish their life aging in a more temperate climate. All the rums available are powerful and very high ABV and can be diluted in order to produce more bottles and add to the value of the cask. The Cask Trade team are big believers in rum in terms of the taste, variety and quality and see rum casks as an extension of the portfolio moving forward. Could cask rum add a little spice to your investment portfolio?
Tasting notes
Cask Trade's Keeper of the Quaich and all-round spirits expert, Sir Colin Hampden-White, has had the pleasure of sampling some of our new cask rum. Like whisky, rum differs in style and so he has grouped these together as Fruity & Sweet, Complex & Aromatic, Funky and Estery.
Fruity & Sweet Barbados Rum 2007 (Foursquare Distillery) Nose: Orange marmalade, orchard fruits, wildflowers, coconut water Palate: Orange chocolate, honeysuckle, apricot jam Guyana Rum 2010 (Diamond Distillery) Nose: Juicy white grape gummies, kumquats, candied ginger, banana fritters Palate: Coconut shavings, grapefruit syrup, violet candies Trinidad Rum 2010 (T.D.L. Distillery) Nose: Banana cake, green mangoes, vanilla and creamy Palate: Roasted almonds, pepper, chilli chocolate, hint of beeswax
Complex & Aromatic Belize Rum 2006 (Travellers Distillery) Nose: Vanilla sponge cake, roasted nuts, beef stock, tar Palate: Sweet like marshmallow, accompanied with espresso coffee and honey-roasted nuts, stewed apples Dominican Republic Rum 2010 (Acoholes Finos Dominicanos Distillery) Nose: Cocoa, deep-roasted coffee beans, tangy syrup, eucalyptus ointment, nutmeg Palate: Cigar box, tobacco, maple-smoked bacon, crème brûlée Nicaragua Rum 2000 (Compania Licorera de Nicaragua Distillery) Nose: Warm spices, cinnamon bun, pencil shavings, old wooden furniture, meringue Palate: Chewing tobacco, aniseed, bonfire smoke, demerara sugar
Funky & Estery Guyana Rum 2002 (Diamond Distillery) Nose: Fermented fruits, rosehip wine, violets, lambic beer Palate: Candied pineapple, sugar frosting, cherry liqueur, ripe melons Jamaica Rum 2007 (Clarendon Estate Distillery) Nose: Floral, white grapes, bandages, ink, fresh cane juice Palate: Dampened cloth, musty, banana fritters, quince jelly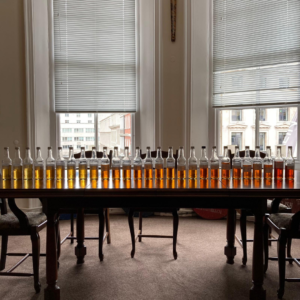 Newsflash
New to the price list:
 2010 Mauritius Rum from La Bourdonnaise Distillery in sherry butt
2013 Reunion Rum from Savanna Distillery in red wine barrels
2006 and 2010 Barbados Rum from Foursquare Distillery in Sauternes barrels
To find out more about Rum Cask Investment, contact The Masters today!