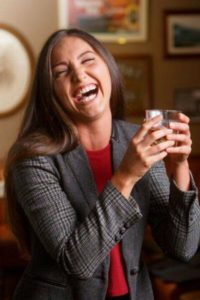 As the newest member of the Cask Trade team, Sales & Marketing Manager Sarah has joined us from the Emerald Isles and has brought with her passion for the brown nectar and an abundance of knowledge of the Irish whiskey scene.
How long have you worked for Cask Trade? I have been with Cask Trade for one full week and three days now, and I am loving every minute of it.
What first ignited your passion for Whisky? My Grandad was an avid whisky collector. I loved how he described the tasting notes of whisky. Sharing a dram of whisky with him was always a special moment whether it was a birthday celebration or after a Christmas Day swim in the Irish sea.
What are your top three favourite World whiskies and why? 1. Paul John, Indian whisky. The maturation and angels share is incredibly fast which I find fascinating. They use 6-row feed barley so it makes a very interesting spirit. 2. Millstone 100 rye whisky from the Netherlands. I recently tried this when I was in Groningen and found the flavours and 100% rye grain. 3. Abasolo, this is a Mexican whiskey. I love the concept and it's fully corn.
What are your favourite flavours? Which aspects of whisky are the most important for you? It depends on the time of year for flavours but during the winter months, I love the red wine, nutty notes of a sherry cask finish. Glenfiddich 15 is aged in European oak sherry casks and new oak casks, and the whisky is mellowed in a unique solera vat. This is the perfect warm, spicy winter whisky to sip by the fire. During the warmer months, I love a rum cask finish. I really enjoy the tropical notes in a whisky when the sun is shining, perched on a rooftop. Since moving to the UK and working for William Grant & Sons, I have dived into the world of peated whiskies from Islay such as Ardbeg, Laphroaig and Lagavulin. I also really like Bruichladdich, even though they are an Islay brand that is non-peated.
Your favourite whisky cocktail? A paper plane or I am a big fan of a whisky highball.
Whisky with water or straight cask strength? Both. It depends on what I want to taste from the whisky. Cask Strength has strong, bold, powerful flavours that burst in your palate. A little water can bring out different flavours and aromas that can make the experience more refined.
What do you like most about Cask Trade? The ethos and energy of the team is very special. Everyone is super passionate about whisky and the team is so supportive and encouraging, everyday I am learning something new about whisky. I love the genuine approach Cask Trade has to whisky cask trading. It is totally transparent, and it is establishing a marketplace for trade and private clients alike.
Why should people purchase Whisky Casks? It is an exciting alternative asset with exceptional growth. As the whisky matures in the cask, it increases in value. Purchasing a cask is a memorable experience; picking out your own unique cask, patiently waiting until the liquid is ready to sample, and eventually, you can even choose to bottle it if you wish. Buyers have the chance to own a piece of whisky. It is an alternative to traditional assets and provides a fascinating and fun journey with great expected returns.
To find out more about what Cask Trade can do for you, don't hesitate to contact the team today and let's talk whisky! 
We currently have a delicious range of Irish Single Malt & Grain Whiskey from Cooley distillery on our current stock list ranging from 2001-2010. 
To find out more about purchasing Irish Whiskey, contact The Masters today!