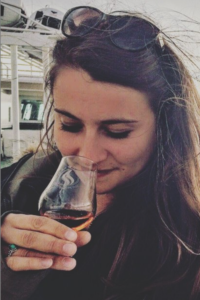 Myriam's 'on the nose' when it comes to knowing her whisky; in the latest edition of our 'Meet the Masters' series we're focusing on one of our Sales & Marketing Executive Managers Myriam Mackenzie, who certainly knows her way around a cask!
How long have you worked for Cask Trade? Two months, but I've been working in whisky as a full time career coming up to seven years!
What first ignited your passion for Whisky? I grew up in the whisky region of Speyside with the iconic Strathisla Distillery quite literally on my doorstep! I actually first started working in whisky as a distillery tour guide when I was 18 at Glenfiddich distillery. What attracted me to the whisky world is how internationally recognised Scotch whisky is, and how it opens doors to meeting people from so many different backgrounds and countries. It was always inspiring to see visitors from all over the world visiting the local distilleries and appreciating their passion and love for Scotch whisky. It's a really close knit industry full of history, amazing people and expertly crafted products.
What are your top three favourite whiskies and why? 1. Bowmore 1966 40 Year Old bottling by Duncan Taylor; one of the most tropical and memorable whiskies I've ever come across. I tried this at Sukhinder's Old & Rare Show and it tastes like picking a ripe mango straight from the tree! 2. Rosebank 21 Year Old, The Roses Series, Innocence bottling by Elixir Distillers. Another tropical whisky and one of my all time favourites, which was bottled during my time at Elixir Distillers. Rosebank distillery is one of those long lost gems of the whisky industry - it is a really special whisky with notes of apricots and exotic flowers. 3. Springbank 1993 single cask. We just sold a cask of this last month and I thought it was absolutely gorgeous. Notes of stone fruits, peaches, sweet nectarines; basically another tropical paradise whisky!
What are your favourite flavours? Which aspects of whisky are the most important for you? I love the older whiskies matured in bourbon casks and packed with notes of tropical and stone fruits. Glenburgie is another great example of this type of flavour profile - which you can find various independent bottlings of - notably Signatory and Single Malts of Scotland. The other flavour profiles I love are the dried fruits and spice you get from full on 'sherrybombs'. I love a sherried Bunnahabhain, Aberlour A'Bunnadh or Glendronach, particularly the Glendronach 18 year old Allardice which is a 'go-to' whisky for me. Super fruity and indulgent, like black forest gateau with layers of cherries, stewed plums, prunes, blackberries and figs. I enjoy lots of viscosity; chewy or oily whiskies are particularly memorable for me and aspects which I look for in general. I like to have a whisky I can sit with for hours.
Your favourite whisky cocktail? An Old Fashioned, preferably sipped in a whisky bar in Tokyo! I've never had an old fashioned that beats the expertise of the Japanese bartenders!
Whisky with water or straight cask strength? I prefer to try the whisky straight and thereafter add a drop of water to open up the aromas and flavours.
What do you like most about Cask Trade? I love the diversity of working with all types of single casks from over 60 distilleries. We are a small team of experts, all in love with whisky, with a rare privilege of being able to taste so many incredible whiskies from all over Scotland. Every week we are buying stock and thanks to being so closely connected to the trade, we see such a diversity of casks coming from independent bottlers, blenders and private individuals as well as from the distilleries themselves. We have no limitations of selling a brand or official bottling, it's all about the quality of each individual cask and about offering a constantly evolving range of whiskies to our customers.
Cask Trade as a business is super flexible and we are very open minded; if a customer wants to sample, regauge, rerack or bottle their cask, we offer this service. Whether you're an investor looking at casks to sell and make a profit, a bottler or even an enthusiast looking for a unique cask to sell as a finished product,  we can look after the entire life cycle of a cask, making your journey memorable and fun.
We sell whisky for everyone; we cater for all budgets, with superb quality whisky starting from under £2k per cask, including old & rare casks which are globally sought after by independent bottlers and private investors. We've had casks of Ardbeg from the '80s, Bowmores and Glenlivets from the '70s, Springbank from the 90s; we are privileged to have a truly unique list of casks which very few traders in the world could even dream of owning!
Why should people invest in Whisky Casks? It's a journey unlike anything else. Whisky is one of the few assets that appreciates in value with age; it's a tangible commodity with real history and provenance. Scotch whisky is shipped to over 200 markets worldwide so the supply and demand element is huge for a small country like Scotland, with a population of five million and approx. 120 distilleries! For those who drink whisky, it's an investment which allows you to make a profit from a passion - you can even sample and visit your own cask. For those who are interested in whisky investment from a financial perspective, you can invest in a cask and sell it on again in five, 10 and 15 plus years and make a profit, with legitimate exit strategies as independent bottlers, collectors and enthusiasts.
To find out more about what Cask Trade can do for you, don't hesitate to contact the team today and let's talk whisky!