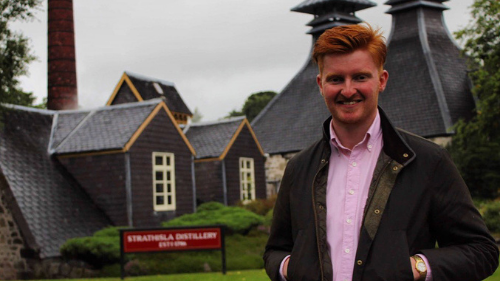 Sales & Marketing Executive Jordan is the latest member to join our quirky team of Whisky Masters. From humble bartender to Brand Ambassador, Jordan's career in whisky has just gone from (cask) strength to strength!
How long have you worked for Cask Trade? Just one week!
What first ignited your passion for Whisky? Working as a bartender during my student days at Edinburgh's Assembly Rooms, where they had a premium selection of Scotch. Brand Ambassadors would routinely host training and tell us the stories behind the brands, which I loved!
What are your top three favourite World whiskies and why? Glenburgie, Glenmorangie and Glengoyne. All three distilleries were among the first I had visited and they all typically capture my favourite style of whisky!
What are your favourite flavours? Which aspects of whisky are the most important for you? Fruity (particularly tropical) and floral flavours are my favourites, I like a whisky with a great balance of spirit character and cask influence.
Your favourite whisky cocktail? Penicillin.
Whisky with water or straight cask strength? With Water.
What do you like most about Cask Trade? The people I work with and the environment I work in. It's a whisky lover's paradise!
Why should people invest in Whisky Casks? Whisky casks are a fun, engaging investment that offers something for everyone with different budgets,  interests and investment timelines in mind.
To find out more about what Cask Trade can do for you, don't hesitate to contact the team today and let's talk whisky!
Interested in whisky investment? Register for our whisky investment guide
Keep up to date by following us on socials: Instagram, Twitter, Facebook, LinkedIn, YouTube.