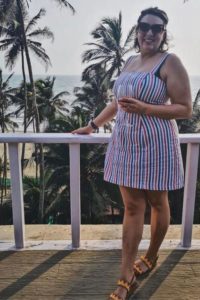 Working in the alcohol business runs in the family for our new Sales & Marketing Executive Manager Jessica; her father's background in the Beer Industry is what spurred her on to pursue a career in spirits and more importantly, whisky!
How long have you worked for Cask Trade? About a month now!
What first ignited your passion for Whisky? I have always been interested in the alcohol industry as my father is in the Beer Industry. But, my love for whisky really ignited when I started working for Master of Malt five years ago. I was able to discover there is a lot more to whisky than just heavy peat! Once I started tasting I never looked back!
What are your top three favourite Scotch whiskies and why? Glenfarclas 25-year-old – great winter dram, love all the chocolate, nutty and Christmas cake flavours. Glenkinchie 12-year-old – lovely summer evening dram with lots of honey and apple notes, easy light drinking. Auchentoshan 18-year-old – another Lowland with zesty and floral notes, alongside some vanilla. 
What are your top three favourite World whiskies and why? Nikka from the Barrel is my all-time favourite, so easy to enjoy in the evening over a good film.  Milk and Honey Single Malt from Israel – love the honey and chocolate notes. Cotswolds Single Malt – another of my favourites, fruity, floral, citrusy, a breakfast whisky! 
What are your favourite flavours? Which aspects of whisky are the most important for you? I love the fruity and zesty flavours, as well as honey and vanilla, but also in the winter enjoy the sherry cask finishes and more of a heavier dram. I like exploring all different flavours and picking up on the cask influence, I look to alternative casks that whisky has been matured in.
Your favourite whisky cocktail? A Rob Roy or an Old Fashioned!
Whisky with water or straight cask strength? Always taste first straight, but I do like to add a drop of water to just fully open the flavours.
What do you like most about Cask Trade? The honesty and transparency in which we deal with our customers. Being genuine in our processes and helping people enjoy the world of whisky and investing. The team are great, all of us bringing together our knowledge and love of whisky from different points of view and past experiences.  
Why should people invest in Whisky Casks? It is one of the alternative assets which does appreciate with age and therefore why not! It is a keen market at the moment, and a fun way of investing, being able to taste and see your investment and watch it mature is something that is very special.
To find out more about what Cask Trade can do for you, don't hesitate to contact the team today and let's talk whisky!