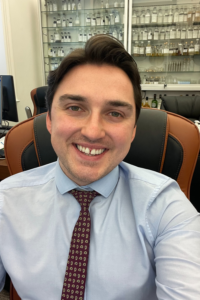 Understanding the effort and pure passion that goes into making single malt scotch, coupled with the taste of a vintage 18-year-old expression was what lured our new Sales and Marketing Executive Manager Jack into the exciting world of whisky!
How long have you worked for Cask Trade? I've just joined the team here at Cask Trade within the last month after spending the last few years working for whisky brands at Edrington-Beam Suntory and Pernod Ricard.
What first ignited your passion for Whisky? I spent about 5 years working in hospitality whilst at University, working predominantly in cocktail bars back home in Scotland where we got to play around with some incredible whiskies. I remember one particular whisky tasting up in Dundee where I first heard about all the effort and passion that goes into making a single malt scotch and got to try my first 18-year-old whisky, after that I was hooked!
What are your top three favourite Scotch whiskies and why? My favourite whiskies change with whichever way the wind is blowing but I've tried to pick out a few of my favourite distilleries: Bowmore – There hasn't been a whisky that I've tried from Bowmore that I haven't loved. Their 15yo is the perfect balance between salted Islay peat and rich, chewy spice. Highland Park – Another peated whisky but a completely different style of peat to Islay whiskies. The heather, honey sweetness of the 12yo is perfect for mixing while their 18yo is my favourite bottle that I have at home. Arran – A much younger distillery in the grand scheme of things, they have released some interesting finishes over the last few years. The Amarone finish in particular is well worth searching for.
What are your top three favourite World whiskies and why? Midleton - The Spot range of Irish Pot Still Whiskeys from Midleton in Cork are incredible. The apple notes from Green Spot make the PERFECT whiskey highball. Suntory - We can't really mention world whiskies without talking about Japan. Suntory make some of the most exclusive whiskies in the world but their Chita Single Grain which you can pick up in lots of British supermarkets is one of my favourites. Super creamy, buttery and far too easy to drink. Starward – Australian and Whisky aren't two words that you'd normally stick together but Starward are changing that. Their whisky is young, usually only a few years old but being matured in wine barrels in the heat of Melbourne makes their whisky so enjoyable already. Really interested to see what they come out with in the next few years.
What are your favourite flavours? Which aspects of whisky are the most important for you? I've been really enjoying trying peated whiskies from different regions of Scotland and seeing the effect that the different peats used in the malting process have on flavour. One of the best things about whisky is that once you've found a particular flavour or style that you like, there will be countless other whiskies out there around that style that you can explore.
Your favourite whisky cocktail? Highballs all day every day. I also love anything that pairs super smoky whiskies with fresh red berry flavours. Try sticking Laphroaig in a French martini...
Whisky with water or straight cask strength? Totally depends on the whisky, most cask strength whiskies will benefit from adding a couple of drops of water in to open them up but always worth trying them neat first.
What do you like most about Cask Trade? Whisky investment is completely new territory to the vast majority of investors out there so you need to work with a company that is both knowledgeable and transparent. Cask Trade will guide you through the entire process of cask investment, from selecting the perfect casks based on your goals, to managing your portfolio for you through its entire lifespan. Being totally transparent on pricing between private clients and our network of independent bottlers means that you know you're getting a fair price.
Why should people invest in Whisky Casks? There's a real thrill to owning your own cask of whisky. You're not just sticking your money into a stocks and shares ISA and hoping the numbers on the screen go in the right direction, you're buying something tangible that has been made with real craft and passion. It helps that the value of whisky has been improving dramatically over the last 10 years!
To find out more about what Cask Trade can do for you, don't hesitate to contact the team today and let's talk whisky!