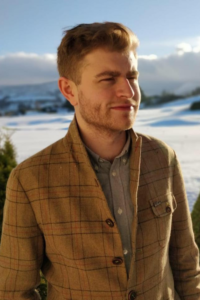 From juvenile pallet to Whisky Master, new Sales & Marketing Executive Hugh Troup explains how whisky lit a fire in his belly fairly early on, influencing his decision to follow his passion.
How long have you worked for Cask Trade?  Two weeks now and loving every minute!
What first ignited your passion for Whisky? My Godfather purchased a cask of whisky when I was born and 14 years later had it bottled. He let me try a sample when I turned 18 and I must admit, I thought it was way too rich and powerful for my delicate, juvenile palate…! As the years went by and my skill and knowledge increased, I was digging through some old boxes and found he had left me two cases of the stuff! I examined the bottle again, opened a fresh one up was delighted to sample this independently bottled 14-year-old Springbank at 56% ABV. This experience lit a fire in my belly (metaphorically and literally speaking) and drove me onward to learn and develop my knowledge further. 
What are your top three favourite World Whiskies and why? What are your top three favourite songs? It's an impossible question for me as my palate is always changing but there are some drams that I'll always fall back on -1994 Tomatin Single Cask 21-year-old, Laphroaig Lore, and Highland Park 18-year-old are just brilliant, always. 
What are your favourite flavours? Which aspects of Whisky are the most important for you? Flavour-wise, I love Islay Peat; that rich iodine, seaweed brine and oily smoke is just iconic and instantly recognisable. I also love anything that is all vanilla and cream soda, and finally I love a nutty rancio flavour. For me the texture of the dram is definitely up there, I love the broad spectrum you can get so long as it's not confused and muddled.
Your favourite Whisky cocktail? Blood & Sand, unusual but a good one is a real delight. 
Whisky with water or straight cask strength? Always straight from the cask for me, then add some water after to open it up and explore the more subtle and nuanced flavours.
What do you like most about Cask Trade? The people. The team's passion, knowledge and humour are infectious, and I'm enthralled by the day-to-day conversations, debates and wit that fly around the office.
Why should people invest in Whisky Casks? Because it's exciting, lucrative and an ever-evolving investment. There are few other alternative investments out there that you can watch mature over the years, sample and quite literally taste the fruits of your labours!
To find out more about what Cask Trade can do for you, don't hesitate to contact the team today and let's talk whisky!