Scotch whisky is clearly one of the world's favourite spirits. No other category can claim to have such a global reach to every continent and nearly every country.
There are actually FIVE different styles of Scotch whisky (Blended/ Blended Malt / Single Malt / Single Grain and Blended Grain). Currently, Blended whisky still dominates the landscape, accounting for 85% of global sales with Single Malt making up the majority of the rest.
However, in 1980 Single Malt was only 1% of global sales and Blended 99%. Today it is nearly 15%! The direction of travel for Single Malt is clearly impressive!  In this article, we have put together some fascinating statistics which we hope will both educate and surprise. This should give a clearer picture of what the global landscape looks like for this wonderful spirit and an indication of what the future might hold.  Let's start with the two titans of the Scotch Whisky industry and their Single Malt production…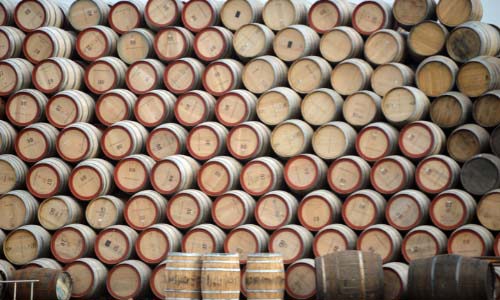 DIAGEO V PERNOD RICARD 
Diageo is the largest Single Malt whisky company, owning an impressive 29 distilleries. Number two is Pernod Ricard with 13 distilleries. However, when we factor in production, Diageo accounts for 27% of all malt capacity, whilst Pernod Ricard is only 20%. 
Glen Ord has the highest per annum capacity of all the Diageo single malt distilleries with 11,500,000 litres. Talisker is 3,000,000, and Lagavulin is only 2,400,000. Brora is the smallest at 800,000.  Glenlivet has the highest capacity for Pernod Ricard with 21,000,000 litres (Glenfiddich is Scotland's No.1 with 22,000,000!). Dalmunach is a surprising 10,500,000…Longmorn is 4,700,000. Aberlour is 3,800,000 and Scapa is their smallest distillery with 1,475,000. 
SINGLE MALT PRODUCTION - GENERAL 
When we look at overall production and the number of distilleries it is clear that the direction of travel is very positive.  There are now a total of 131 Single Malt distilleries in Scotland… The total production capacity is 400,950,000 litres. In 1986 only 81 distilleries were in production.  83.9% of all Single Malt production occurs in the Highland region of Scotland. This of course includes Speyside. Only 5.5% occurs in Islay and a tiny 0.6% in Campbelltown. 
Between 1980 and 1986 - 33 distilleries were closed down. 22 of these were by Diageo!  Between 1987 to the present day 32 mothballed or closed distilleries have re-opened. These include Ben Nevis (1990), Royal Brackla (1990), Ardbeg (1997), Glendronach (2002), Benriach (2004), Scapa (2005), Allt-a-Bhainne (2006), Braeval (2008), Brora (2021), Rosebank (2022), Port Ellen (2022).  ** It is clear that the direction of travel is very positive. 
Macallan today has a production capacity of 15,000,000 litres, whilst their sister distillery Highland Park produces a mere 2,700,000.  Whisky enthusiasts' favourite Ardbeg has a capacity of only 1,300,000 litres, whereas Springbank only produces 750,000. Then there's William Grants Ailsa Bay, which can produce an impressive 12,000,000 litres. Not many people know of this distillery because nearly all its production goes into blends.   Which single malt brands are currently the best sellers around the world? The first four are probably fairly predictable…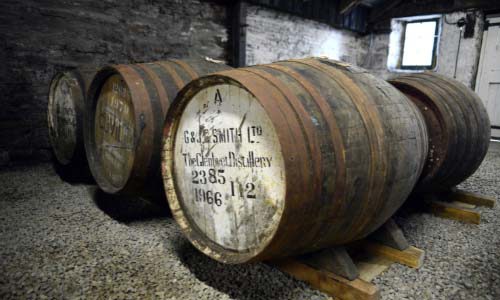 THE TOP TEN GLOBAL SINGLE MALT BRANDS (9-litre cases) 
1) Glenfiddich - 1,212,711 - William Grant - Speyside  2) The Glenlivet – 1,035,564 - Pernod Ricard - Speyside  3) Macallan – 723,000 - Edrington - Speyside  4) Glenmorangie – 540,000 - LVMH - Highland   5) The Singleton (Glen Ord) - 501,493 - Diageo - Highland  6) Balvenie – 349,657 -  William Grant - Speyside  7) Laphroaig – 307,557 - Beam Suntory - Islay  8) Talisker – 272,357 - Diageo - Highland  9) Aberlour – 233,627 - Pernod Ricard - Speyside  10) Cardhu – 231,513 - Diageo - Speyside 
Sales are dominated by the 'Big Three'; the most popular style is clearly Speyside taking the top three positions and six of the top 10.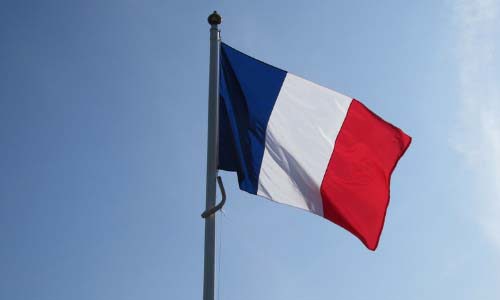 GLOBAL WHISKY MARKETS  
Below are the TOP 10 GLOBAL EXPORT MARKETS FOR WHISKY CONSUMPTION. (In million litres of pure alcohol).  1) France – 49.29  2) USA – 31.22  3) India - 26.46  4) Brazil – 12.67  5) Japan – 12.48  6) Germany – 11.91  7) Mexico – 11.83  8) Latvia – 10.97  9) Poland – 10.48  10) Spain – 10.13 
Many people are surprised by how much Scotch whisky the French actually drink! In fact, it is the only type of non-French-produced alcohol that they drink in large quantities. Most of it though is classified in the cheaper blended variety. However, when we look at just Single Malt consumption (remove blended whisky) then this Top 10 list looks very different (in LPA)...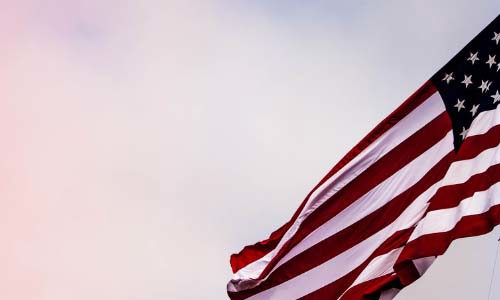 THE TOP 10 GLOBAL MARKETS FOR SINGLE MALT CONSUMPTION
1) USA – 6.4  2) France – 5.5  3) Taiwan – 2.4  4) Italy – 2.3  5) Singapore – 2.3  6) Germany – 2.2  7) China – 1.7  8) Netherlands – 1.5  9) Canada – 1.3  10) Latvia – 1.0  
Notice three Asian countries come onto the list, with Taiwan and Singapore consuming an impressive amount of Single Malt for their relative population size.  Our final Top 10 list is very interesting. These are the countries where the highest average price per litre of Scotch whisky is sold (in ££).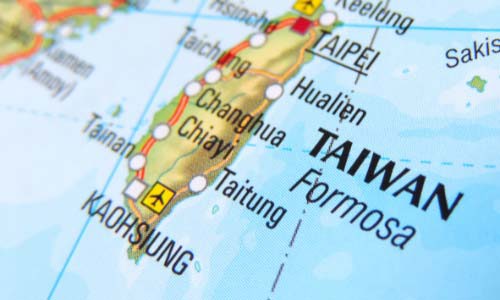 TOP 10 GLOBAL LIST PER LITRE BOTTLE PRICE
1) Taiwan - 36.44  2) Singapore – 28.19  3) Canada – 23.17  4) USA – 23.35  5) South Korea – 22.84  6) China – 20.97  7) Switzerland – 20.46  8) Hong Kong – 20.09  9) Malaysia – 17.84  10) Sweden – 16.13 
CONCLUSION – Blended whisky still dominates global sales. However, Single Malt is where the growth is, especially in Asia. The last Top 10 is dominated by Asian countries where consumers will clearly spend more on whisky. Taiwan is a very clear No.1. They are No.3 for Single Malt consumption as well. It is easy to see why the Independent Bottling market is thriving in these countries and why many single malt brands heavily invest their marketing budgets in this part of the world. 
It was also one of the reasons why Cask Trade opened an office in Hong Kong!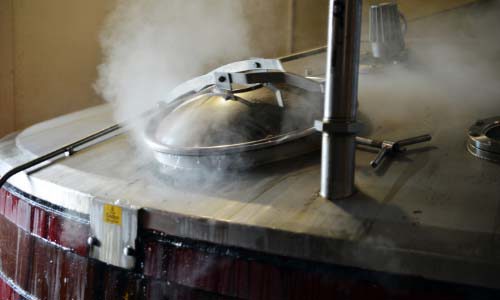 THE UK MARKET  
Finally, we're going to take a look at Scotch whisky's home market which is still very significant but with many long-term changes occurring.  The trend for the UK market has been one of general volume decline over the last 40 years, with 1979 being the high watermark. The UK is still a significant market and stats can be misleading sometimes, as the UK is going through an extended 'premiumisation' phase with all spirits, where consumers are drinking less but better quality.  
Interestingly, last year Scotch whisky consumption actually rose by 10.6%, with Single Malts rising 16% and Blends up by 9%. The UK is still a crucial market for Scotch whisky. In 1979 Scotch whisky accounted for 50% of all spirit consumption in the UK!  By 2020 that figure had dropped to 17.8% (although the last three years have seen a rise)... In 1966 the amount of duty paid per litre of alcohol for whisky was £6.19. By 2020 this had risen to £28.74. (Thank you, politicians). 
There has only ever been one example of a duty decrease, which was in the 1997 budget. The Chancellor was Ken Clarke who famously always had a glass of Single Malt Scotch in his hand when delivering his budget speeches. The following year teetotal Scotsman Gordon Brown put it back up again! 
CONCLUSION - These are truly fascinating statistics. It is clear that Scotch whisky consumption around the world is increasing with a trend towards premiumisation. Consumers are spending more per bottle, especially in the rapidly growing Asian markets. It also seems that sales of blended whisky are currently stable, but growth is coming from the premium Blends and Single Malt sales. This will put supply and demand pressure on casks of whisky over 10 years of age and will drive price inflation for the foreseeable future.
To find out more about purchasing Scotch Whisky casks, contact the Cask Whisky Masters today. Keep up to date by following us on socials: Instagram, Twitter, Facebook, LinkedIn, YouTube.