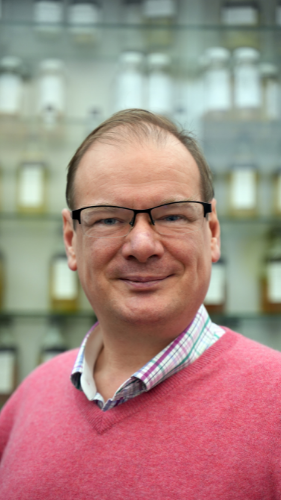 Cask Trade Director, Colin Hampden-White has been made a liveryman of The Worshipful Company of Distillers, adding to his list of expertise including Keeper of the Quaich, a judge for the Whisky Awards and his role as a key member of the Cask Trade team.
The Worshipful Company of Distillers is a convivial fellowship and its key objectives include being the hub of the spirits industry, supporting education and vocational training, and raising money for charitable causes. Colin says he is delighted to have been appointed a liveryman. "The Company is great for networking with other people in our industry and raising money for charity, but charity is the main thing. The fundraisers are a good way of having fun whilst donating to a good cause," says Colin who hopes to join a sub-committee later this year to help raise the profile of the Company on social media.
Representing all corners of the world of spirits from distillers, retailers and writers, there are a number of stages to being admitted as a Liveryman of the Company. Initially, candidates have to be eligible for admission by one of various methods including obtaining the Freedom of the City of London. The Worshipful Company of Distillers hosted the inaugural 'One of One' Auction last year raising £3.1 million for charity. Over 40 exceptional whiskies and experiences found new owners from all over the world when the first in a series of auctions under the banner 'The Distillers One of One' took place at Barnbougle Castle near Edinburgh in December. The auction was organised by The Distillers' Charity, the philanthropic arm of The Worshipful Company of Distillers, in collaboration with Sotheby's.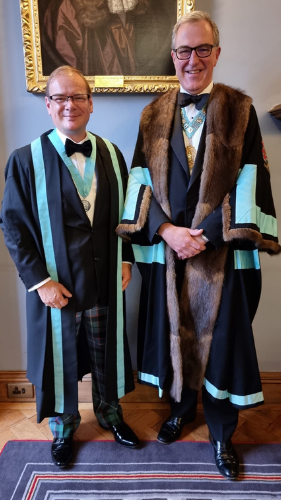 (Colin with Jonathan Driver, his Immediate Past Master, previously Proposer and Master of the Worshipful Company of Distillers. Taken at the Signet Library in Edinburgh).
The Worshipful Company of Distillers is a Livery Company of the City of London granted Royal Charter in 1638. There are currently 110 City Livery Companies, each numbered according to precedence, primarily based on the date of foundation.
The Distillers' Company is ranked number 69. Colin was the founding editor of Whisky Quarterly and is a judge for the International Wine and Spirits Competition and the World Whisky Awards. In 2016 his contribution to Scotch whisky was recognised and he was made a member of the Keepers of the Quaich. In the same year, he was elected Chairman of the Circle of Wine Writers. Colin is a presenter on the global TV Show: The Three Drinkers on Amazon Prime.
Cask Trade is delighted to be represented within The Worshipful Company of Distillers and looks forward to supporting its mission and charitable endeavours in 2022 and beyond.
For more interesting updates and information from our Whisky Investment Masters, be sure to check out our 'News' page