On Monday 7th October, we officially launched Cask Trade Ltd. with a brief presentation on what we do and why, by Simon Aron, the managing director.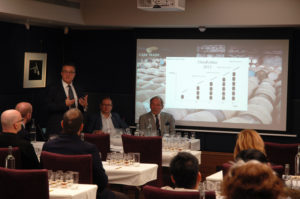 Followed by a superb cask strength whisky tasting led by none other than the godfather of whisky -
Charles Maclean
and
Sir Colin Hampden-White
, Keeper of the Quaich and one of Cask Trade's directors.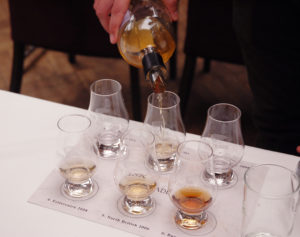 We sampled 6 cask strength whiskies that we had specially drawn out of casks currently on our stocklist. It was a rare opportunity to taste them with the guidance of some of the most respected whisky experts!
Glenlivet 1978, 40 years, bourbon hogshead, 41.7%
Aberlour 1989, 26 years, bourbon hogshead, 51.1%
Glen Moray 2008, 10 years, bourbon barrel, 57.1%
Fettercairn 2008, 10 years, bourbon barrel, 56.6%
North British 2006, 12 years, sherry cask finish, 59.9% (10 years bourbon, 2 years sherry)
Bunnahabhain 2009, 10 years, 1st fill Oloroso sherry butt, 56.2%
Are you interested in more information, in our full stocklist, prices and samples availability?
Get in touch and let's talk whisky
!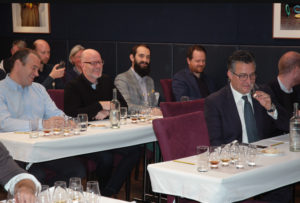 We talked about alternative investment, specifically in casks of whisky and possible exit strategies. Furthermore, about Simon's personal journey of collecting and investing himself and what eventually led him to creating Cask Trade - a honest and global marketplace in this business!
Soon, you will be able to watch the full presentation and whisky tasting. As well as read more on cask investment and Charles' tasting notes.